An NRG Air composite nylon/carbon reinforced sole adds stiffness while an ultra-snug fitting upper with biomap aero overlap construction provides super comfort and aero performance.
Cena katalogowa: 630PLN
NRG Air Carbon reinforced sole with a stiffness index of 8.0 and 5 vents for perfect airflow
SPD pedal compatible (cleat plate not included)
Ultra-Snug fitting upper with biomap aero overlap construction and micro perforations reduces aerodynamic drag
SLW2 Dial - step by step and full release in a single button
Integrated heel system containing directional fibre prevents any slipping
NGR Air Carbon Reinforced Sole
Northwave's NRG Air Carbon Reinforced Sole provides increased stiffness thanks to the blend of nylon reinforced with fiberglass and enriched with carbon. As with the whole road soles collection, it features the AirFlow ventilation system for fresh air circulation in hot weather. Vents favour an optimal air flow in and out.
S.L.W 2 Closure System
Maximum precision and usability- the side button offers dual functionality: press the button for micro-metric release, or lift the button to instantly undo the shoe completely.
The ergonomic shape of the ratchet base matches the shape of the foot for added comfort, while the size and minimised weight plus the outer soft-touch covering make it easier and better to grip. It features wires that harness the best technologies used in sailing, and can be easily replaced using the spare parts kit.
BioMap- Your energy is precious, never waste it
This is why Northwave shoes are designed with BioMap technology. Northwave soles, uppers and all their components are anatomically compatible with every cyclist's feet and are designed to keep the foot in the right position while pedalling, transmitting power directly to the pedals without wasting any energy.
Integrated Heel System
The new unibody construction of the uppers allows for the integration of an efficient heel retention system inside the structure,without the need of external elements. Same efficiency, reduced weight.
Type

:

MALE

FASTENING SYSTEM

:

VELCRO

,

BOA

Mocowanie bloków

:

SPD SL

,

LOOK

Podeszwa

:

CARBON

Fason

:

NISKIE

Use

:

ROAD



| Size | US | CM (wg producenta) | Rzeczywista długość wkładki mm |
| --- | --- | --- | --- |
| 47 | | | 308 |
UWAGA! Aby uniknąć niepotrzebnych wymian lub zwrotów zakupionego obuwia - BARDZO PROSIMY przy doborze zamawianego rozmiaru, trzymać się poniższych zasad:
A. podane w ostatniej kolumnie długości wkładek w mm, są RZECZYWISTYMI, CAŁKOWITYMI długościami mierzonych przez nas wkładek oferowanych butów.
B. PROSIMY WYBEIRAĆ rozmiar, którego wkładka jest od 2mm do 5mm dłuższa od rzeczywistej długości bosej stopy.
C. Jak mierzyć stopę?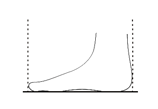 Pomiar należy wykonać od początku pięty do końca palców - najlepiej w pozycji stojącej.
Piętę przysuwamy do ściany lub np. mebla, a do palców przesuwamy prostopadle do linii stopy, np. sztywną książkę.
Mierzymy odległość pomiędzy ścianą a książką.