Cechują się nie tylko zmniejszoną objętością i szerokością w przedniej części. Dopracowano także kształt pięty, z uwzględnieniem budowy anatomicznej kobiecej stopy.
Cena katalogowa: 920PLN
Women's Specific Last
Soft Instep 2 Closure System
Caliper BuckleHigh Security Velcro
Replaceable Heel
Sidi Heel Cup
Milenium 4 Carbon Composite Sole
The SOFT INSTEP CLOSURE SYSTEM is a wide, anatomically curved strap combined with a soft, thermoformed EVA pad that distributes pressure evenly over the instep area. The SOFT INSTEP CLOSURE SYSTEM is adjustable from both sides, to perfectly center the EVA pad over a high or low instep. The system eliminates the need for the High Instep Extender. The SOFT INSTEP CLOSURE SYSTEM is replaceable.

The micrometric closure called "CALIPER BUCKLE" is adjustable by lifting the central buckle. In order to completely open, lift together both side buckles, or push the center button to slightly loosen one tooth at the time.The system is also adjustable during a race.

HIGH SECURITY VELCRO straps with integrated locking polymer teeth, that engage onto each other when the strap is closed. This feature makes the closure more secure and the strap becomes unmoveable.

For walkability, Sidi cycling shoes include a polyurethane REPLACEABLE HEEL PAD.

Reinforced SIDI HEEL CUP that stabilizes and supports the heel. Anatomically shaped plastic, reduces heel slip and provides increased power transfer. Provides additional foot protection in the event of a crash.
Type

:

WOMEN

Mocowanie bloków

:

SPD SL

,

LOOK

Podeszwa

:

CARBON

FASTENING SYSTEM

:

SBS

,

VELCRO

Use

:

ROAD



| Size | US | rzeczywista długość wkładki w mm |
| --- | --- | --- |
| 40 | 7 | 249 |
UWAGA! Aby uniknąć niepotrzebnych wymian lub zwrotów zakupionego obuwia - BARDZO PROSIMY przy doborze zamawianego rozmiaru, trzymać się poniższych zasad:
A. podane w ostatniej kolumnie długości wkładek w mm, są RZECZYWISTYMI, CAŁKOWITYMI długościami mierzonych przez nas wkładek oferowanych butów.
B. UWAGA ! W butach SIDI wybrany rozmiar butów powinien mieć rzeczywistą długość wkładki ok. 2-5mm mniejszą niż rzeczywista długość naszej stopy.
C. Jak mierzyć stopę?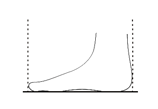 Pomiar należy wykonać od początku pięty do końca palców - najlepiej w pozycji stojącej.
Piętę przysuwamy do ściany lub np. mebla, a do palców przesuwamy prostopadle do linii stopy, np. sztywną książkę.
Mierzymy odległość pomiędzy ścianą a książką.