Cycling shoes designed for aggressive MTB, with the highest quality Speedlight 3D Carbon sole, S.L.W.2 closure and very well airy upper. It's a super light casing, very comfortable and with an aggressive appearance. Professional MTB cycling shoes have stiffer soles than everyday riding shoes, which means they can transfer more power to the pedals with each press. By improving the foot-pedal connection, you can ride faster with greater efficiency and increased comfort. The Northwave Nirvana shoe is the perfect shoe for XC riders.

LIST PRICE: 219€


NOTE: the exact colors of the shoes are presented in the 2nd photo.
Upper: Microfiber + PU + Biomap

Clasp: S.L.W.2 + 2 stripes

Sole: Speedlight 3D Carbon

Weight: 369g

Footbed: Performance Pro

Technologies: Biomap. Speedlight Carbon 3D Sole. SLW2. Multilayer Thermowelded Construction. Performance Pro Footbed.

Biomap:
Your energy is precious and you shouldn't waste it. That is why our shoes were made using BioMap technology. The Northwave soles as well as the upper with all its components are anatomically compatible with every rider's foot, as well as to keep the foot in the correct position while pedaling. They transfer energy directly to the pedals without any loss.

Speedlight Carbon 3D Sole:
The sole is made of nylon and carbon fiber. Rubber spikes provide excellent grip.

Multilayer Thermowelded Construction:
New multi-layer construction: Light microfiber is combined with ventilation inserts made of large, thermally conductive mesh, maintaining the thickness of a single layer. Thanks to the technologies used, we have obtained increased comfort and reduced weight.

S.L.W.2 closing system:
Ultra-fast micro-metric closure - intuitive with fine adjustment. The side button gradually releases the holding line, so you can enjoy very precise control of the clasp while riding. The Speed ​​Lace Winch mechanism is compact and lightweight to keep the weight of the shoe low. The line is the result of meticulous research on the best technology available for sailing - ultra high tensile strength, strength and lightness lines.

Performance Pro:
EVA and microfiber offer a remarkably lightweight footbed that provides the perfect angle and firmness to transmit all the energy to the pedals.
Type

:

WOMEN

FASTENING SYSTEM

:

VELCRO

,

BOA

Mocowanie bloków

:

SPD

Podeszwa

:

CARBON

Fason

:

NISKIE

Use

:

MTB



| Size | US | CM | Rzeczywista długość wkładki (mm) |
| --- | --- | --- | --- |
| 38 | 6.5 | 25 | 244 |
UWAGA! Aby uniknąć niepotrzebnych wymian lub zwrotów zakupionego obuwia - BARDZO PROSIMY przy doborze zamawianego rozmiaru, trzymać się poniższych zasad:
A. podane w ostatniej kolumnie długości wkładek w mm, są RZECZYWISTYMI, CAŁKOWITYMI długościami mierzonych przez nas wkładek oferowanych butów.
B. PROSIMY WYBEIRAĆ rozmiar, którego wkładka jest od 2mm do 5mm dłuższa od rzeczywistej długości bosej stopy.
C. Jak mierzyć stopę?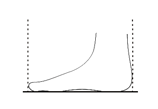 Pomiar należy wykonać od początku pięty do końca palców - najlepiej w pozycji stojącej.
Piętę przysuwamy do ściany lub np. mebla, a do palców przesuwamy prostopadle do linii stopy, np. sztywną książkę.
Mierzymy odległość pomiędzy ścianą a książką.