Italian company Northwave is known for innovation in design and performance and can truly dress you from head to toe. Northwave products represent excellence in Italian design and are tested by the best riders worldwide.
Cena katalogowa: 649PLN
Sole: speedlight 3d
Upper: ultralight pu
Upper contruction: biomap without stitching
Closing system: srs + asymmetrical straps
Heel: integrated heel system
Footbed: performance pro
Tech: pu thermowelded reinforcements
Weight: 356gr
Biomap
Your energy is precious, never waste it. That's why our shoes are designed with BioMap technology. Northwave soles, uppers and all their components are anatomically compatible with every cyclist's feet and are designed to keep the foot in the right position while pedaling, transmitting power directly to the pedals without wasting any energy.
Speedlight 3D Sole
The nylon chassis is filled with fiberglass and co-injected to the outer polished TPU shell. The rubber studs provide excellent grip: you want less weight and more performance so this is exclusively for you.
S.R.S. closing system
S.R.S. (Slim Ratchet System) is Northwave's new micrometric buckle. Maximum closing precision, minimized size and weight. The mechanism follows the anatomic shape of the foot, to ensure the most comfortable fit, and is designed to ease the grasp even when riding. Forged in aluminum, it's great for topresistance and ease of replacement.
Asymmetrical straps
The asymmetrical construction is another innovation of the collection. The central strap is moved to the center so as to follow the anatomy of the foot and reduce the pressure on the side area, because particularly sensitive. The straps have been lightened by all superfluous elements, presenting thinner thicknesses and discharged central areas, thereby maintaining maximum grip.
Integrated Heel System
The new unibody construction of the uppers allowed to integrate an efficient heel retention system inside the structure, without the need of external elements. Same efficiency, reduced weight.
Microinjected protections
Upper with microinjected reinforced protection to protect your feet from any injuries caused by branches or stones while out on the trails.
Performance Advanced Footbed
Ergonomic design: because you need to keep the perfect position when pedaling and you want comfort too.
Type

:

MALE

FASTENING SYSTEM

:

VELCRO

,

SBS

Mocowanie bloków

:

SPD

Fason

:

NISKIE

Use

:

MTB



| Size | US | CM (wg producenta) | Rzeczywista długość wkładki w mm |
| --- | --- | --- | --- |
| 42 | 9 1/2 | 27.3 | 272 |
UWAGA! Aby uniknąć niepotrzebnych wymian lub zwrotów zakupionego obuwia - BARDZO PROSIMY przy doborze zamawianego rozmiaru, trzymać się poniższych zasad:
A. podane w ostatniej kolumnie długości wkładek w mm, są RZECZYWISTYMI, CAŁKOWITYMI długościami mierzonych przez nas wkładek oferowanych butów.
B. PROSIMY WYBEIRAĆ rozmiar, którego wkładka jest od 2mm do 5mm dłuższa od rzeczywistej długości bosej stopy.
C. Jak mierzyć stopę?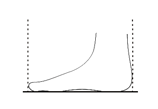 Pomiar należy wykonać od początku pięty do końca palców - najlepiej w pozycji stojącej.
Piętę przysuwamy do ściany lub np. mebla, a do palców przesuwamy prostopadle do linii stopy, np. sztywną książkę.
Mierzymy odległość pomiędzy ścianą a książką.