New Millennium 3 Carbon Composite Sole, three Velcro® straps and padded tongue for a comfortable fit. Comes with replaceable heel pad.
Cena katalogowa: 479PLN
Podeszwa zastąpiła podeszwę Millenium 2. Dzięki zastosowaniu włókna węglowego inżynierom Sidi udało się jeszcze polepszyć właściwości, jakimi cechowała się poprzednia generacja podeszew Millenium. Materiał podeszwy jest kombinacją włókien nylonowych i włókna węglowego. Dzięki dodatkowi włókna węglowego zwiększono o 36% sztywność podeszwy w porównaniu do Millenium 2. Nowa podeszwa jest również mniej podatna na zmianę właściwości z upływem czasu i zmiany temperatury. Na pięcie wymienna, gumowa podkładka antypoślizgowa. By ułatwić wymianę progów, podeszwa posiada nadrukowaną skalę w zakresie 10 mm w pionie i w poziomie. Podeszwa Millenium 3 jest kompatybilna z najlepszymi markami pedałów obecnych na rynku oraz posiada również możliwość zamocowania płytki Look Memory.
Type

:

WOMEN

,

MALE

Mocowanie bloków

:

SPD SL

,

LOOK

FASTENING SYSTEM

:

VELCRO

Use

:

ROAD

Podeszwa

:

CARBON



| Size | | | Rzeczywista (mierzona) długość wkładki (mm) |
| --- | --- | --- | --- |
| 38 | | | 234 |
UWAGA! Aby uniknąć niepotrzebnych wymian lub zwrotów zakupionego obuwia - BARDZO PROSIMY przy doborze zamawianego rozmiaru, trzymać się poniższych zasad:
A. podane w ostatniej kolumnie długości wkładek w mm, są RZECZYWISTYMI, CAŁKOWITYMI długościami mierzonych przez nas wkładek oferowanych butów.
B. UWAGA ! W butach SIDI wybrany rozmiar butów powinien mieć rzeczywistą długość wkładki ok. 2-5mm mniejszą niż rzeczywista długość naszej stopy.
C. Jak mierzyć stopę?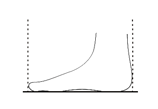 Pomiar należy wykonać od początku pięty do końca palców - najlepiej w pozycji stojącej.
Piętę przysuwamy do ściany lub np. mebla, a do palców przesuwamy prostopadle do linii stopy, np. sztywną książkę.
Mierzymy odległość pomiędzy ścianą a książką.