Buty przeznaczone do jazdy trekkingowej,  rekreacyjnej lub do spinningu z pedałami SPD latem. Zapinane na 2 szerokie rzepy. Podeszwa wykona z naturalnej gumy. Usztywniana pięta zapewniająca stabilność stopy.
Niezwykle lekkie i bardzo wygodne, ale sztywne. Idealny dla każdego, kto poszukuje odpowiedniej wydajności podczas Spinningu. Bardzo przewiewna góra i pewne zapięcie na 2 rzepy pozwalają czerpać maksimum przyjemności z każdej minuty treningu. 
Cena katalogowa: 430PLN
BIOMAP: BioMap by Northwave is the result of a careful analysis carried out in order to understand how the body functions during physical activity and what its specific needs are. The sole, the upper and every single component are anatomically compatible with every cyclist´s foot and have been designed to keep the foot in the correct position while pedalling,so the cyclist´s force is transmitted directly to the pedals without wasting energy.

Custom Fit Heel: The supporting element in rigid polyurethane has been designed specifically to be complemented by Velcro adjustment straps. Greater comfort during pedalling, guaranted by the optimal and stable position of the heel.

Gel pad closing system: The polyurethane gel structure, adjusted by two side straps, ensures excellent stability and comfort. The Velcro positioned on the back allows customized adjustment of the heel closure. Customized closure, without pressure points, ensures optimum comfort.
Maximum foot retention for greater stability.

Haze Sole: The midsole in nylon, a thermoplastic material made of composite fibres, guarantees excellent rigidity to the sole. The outsole with Hi-grip pattern is made of the best synthetic rubbers. Compatible with all Mountain Bike pedals, the front part can also be fitted with studs. Increased rigidity allows energy loss to be minimized. Excellent grip on the entire sole surface. Moderate weight.

Closing System: Gel pad closing system

Footbed: Air Sport

Thin and lightweight, it provides sensitivity and grip inside the sole shoe while pedalling. The perforations increase breathability.
Type

:

MALE

FASTENING SYSTEM

:

VELCRO

Fason

:

NISKIE

Use

:

SPINNING / INDOOR CYCLING

,

MTB

,

TOURISM



| Size | UK | US | cm | Rzeczywista mierzona długość wkładki (mm) |
| --- | --- | --- | --- | --- |
| 40 | 6,5 | 7,5 | 26 | 259 |
UWAGA! Aby uniknąć niepotrzebnych wymian lub zwrotów zakupionego obuwia - BARDZO PROSIMY przy doborze zamawianego rozmiaru, trzymać się poniższych zasad:
A. podane w ostatniej kolumnie długości wkładek w mm, są RZECZYWISTYMI, CAŁKOWITYMI długościami mierzonych przez nas wkładek oferowanych butów.
B. PROSIMY WYBEIRAĆ rozmiar, którego wkładka jest od 2mm do 5mm dłuższa od rzeczywistej długości bosej stopy.
C. Jak mierzyć stopę?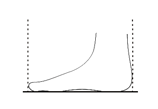 Pomiar należy wykonać od początku pięty do końca palców - najlepiej w pozycji stojącej.
Piętę przysuwamy do ściany lub np. mebla, a do palców przesuwamy prostopadle do linii stopy, np. sztywną książkę.
Mierzymy odległość pomiędzy ścianą a książką.