Shimano SH-MT34 to uniwersalne/turystyczne buty rowerowe SPD przeznaczone do wielu stylów jazdy. Bardzo dobrze sprawdzają się w jeździe terenowej jak i po drogach. Doskonałe to turystyki pieszo-rowerowej ponieważ ich podeszwa jest stosunkowo miękka, dzięki czemu można wygodnie w nich chodzić.
Cena katologowa: 349PLN
Góra
Odporna na rozciąganie, drobna i elastyczna siatka
Skóra syntetyczna
Klasyczne, sznurowane zapięcie, zapewniające równomierne naprężenie oraz wygodę chodzenia
Wzór boczny zaprojektowany tak, aby zapewnić dokładne dopasowanie
Cholewka
Wykończenie Volume Tour ułatwia dopasowania noska
Podeszwa
Wzmocniona włóknem szklanym poliamidowa środkowa część śródstopia
Podeszwa środkow EVA i podeszwa gumowa poprawia skuteczność pedałowania i wygodę podczas chodzenia
Osłony otworów na bloki w komplecie
Najlepiej pasuje do pedałów: PD-M324
Waga: 642g (rozmiar 40)
Sztywność podeszwy: 3
Type

:

MALE

Mocowanie bloków

:

SPD

Fason

:

NISKIE

Use

:

MTB



| Size | Rzeczywista długość wkładki (mm) | US | |
| --- | --- | --- | --- |
| 41 | 264 | 7.6 | |
| 45 | 292 | 10.5 | |
UWAGA! Aby uniknąć niepotrzebnych wymian lub zwrotów zakupionego obuwia - BARDZO PROSIMY przy doborze zamawianego rozmiaru, trzymać się poniższych zasad:
A. podane w ostatniej kolumnie długości wkładek w mm, są RZECZYWISTYMI, CAŁKOWITYMI długościami mierzonych przez nas wkładek oferowanych butów.
B. PROSIMY WYBEIRAĆ rozmiar, którego wkładka jest od 2mm do 5mm dłuższa od rzeczywistej długości bosej stopy.
C. Jak mierzyć stopę?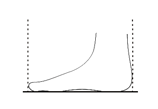 Pomiar należy wykonać od początku pięty do końca palców - najlepiej w pozycji stojącej.
Piętę przysuwamy do ściany lub np. mebla, a do palców przesuwamy prostopadle do linii stopy, np. sztywną książkę.
Mierzymy odległość pomiędzy ścianą a książką.