When temperatures plummet or rain is incessant turn to the Northwave's Extreme Winter GTX SPD Boots. Gore-tex fabrics and Northwave's double shield construction help to keep you pedaling despite the worst mother nature can throw at you.
Cena katalogowa: 1350PLN
Speedlight 3D sole
Gore-Tex Sierra membrane upper
WaterproofBreathable
S.L.W.2+ power strap closures
Integrated heel system
Special GTX footbed
SPD compatible
Rated from -25C to +5C
Goretex Sierra Membrane The Gore-tex Sierra membrane provides total protection from water, matched with extreme breathability for comfort in all weather conditions. Providing maximum protection from rain, wind and snow your feet remain warm and dry. The micro-climate created within the shoe allows you to face the harshest conditions when riding.

Double shield construction Northwave construct these shoes using double shield construction whereby they overlap two different uppers, anatomically integrated with each other and designed to work together. This ensures absolute protection against water and cold. The outer layer blocks the weather, whilst the inner works to create a micro-climate for your foot. All the benefits of a shoe cover, without the weaknesses of a shoe cover.

Speedlight 3D Sole Performance and lightness. The nylon chassis is filled with fiberglass and co-injected to the outer polished TPU shell. The rubber studs provide excellent grip even on the most slippery surfaces.

S.L.W.2 micormetric closure This new system is now lighter smaller and more accurate than previous versions with a dual action release. The closure of the shoe can be easily adjusted while pedaling thanks to the step by step' button, pressing it releases pressure a small step at a time. The release side button also makes it easy to fully open the shoe through lifting of the button.

Power strap closure The power strap protects the speed lace internal lacing system and acts as a cover to help with easy cleaning of the shoe
Podane w TABELI ROZMIARÓW długości wkładek, są rzeczywistymi-zmierzonymi przez nas. Od podanej długości wkładki należy odjąć około 5mm i w ten sposób otrzymujemy długość bosej stopy odpowiedni dla danego rozmiaru buta.
Jak zmierzyć stopę? Najlepiej postawić bosą stopę pomiędzy 2 prostopadłymi "ściankami" (np. mebel lub ściana i sztywna książka) i zmierzać odległość pomiędzy tymi "ściankami".
Type

:

MALE

FASTENING SYSTEM

:

BOA

Mocowanie bloków

:

SPD

Fason

:

WYSOKIE

Membrana

:

GORE-TEX

Use

:

MTB



| Size | US | CM (wg producenta) | Rzeczywista długość wkładki (mm) |
| --- | --- | --- | --- |
| 42 | 9 1/2 | 27.3 | 273 |
UWAGA! Aby uniknąć niepotrzebnych wymian lub zwrotów zakupionego obuwia - BARDZO PROSIMY przy doborze zamawianego rozmiaru, trzymać się poniższych zasad:
A. podane w ostatniej kolumnie długości wkładek w mm, są RZECZYWISTYMI, CAŁKOWITYMI długościami mierzonych przez nas wkładek oferowanych butów.
B. PROSIMY WYBEIRAĆ rozmiar, którego wkładka jest od 2mm do 5mm dłuższa od rzeczywistej długości bosej stopy.
C. Jak mierzyć stopę?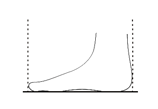 Pomiar należy wykonać od początku pięty do końca palców - najlepiej w pozycji stojącej.
Piętę przysuwamy do ściany lub np. mebla, a do palców przesuwamy prostopadle do linii stopy, np. sztywną książkę.
Mierzymy odległość pomiędzy ścianą a książką.