Shimano ME3 to właściwy wybór do dyscyplin XC i Trail, gdzie przydają się buty przeznaczone do trudnych warunków drogi oraz opadów deszczu, które tworzą błoto. Jest to kontynuacja poprzedniego, bardzo udanego modelu SH=M089. Wykonane są z perforowanej skóry syntetycznej, która gwarantuje wysoką wytrzymałość i doskonały komfort cieplny. Miękkie podszycie zapewnia wyjątkową swobodę noszenia, która jest niezbędna do szybkiego pedałowania. Prosta w obsłudze klamra oraz rzepy umożliwiają odpowiednie dopasowanie.
Gumowa podeszwa jest wzmocniona włóknem szklanym, dzięki któremu nabiera sztywności na optymalnym, średnim poziomie. Technologia Torbal poprawia równowagę i kontrolę jazdy poprzez nadanie niewielkiej swobody ruchom stopy w odpowiednich strefach. O wygodę w czasie długich godzin na siodełku dbają wygodne wkładki z dodatkową warstwą miękkiej pianki.
Cena katalogowa: 390PLN
UWAGA: towar NOWY w opakowaniu zastępczym
Zalecany jest wybór obuwia o jeden rozmiar większego niż standardowy
Materiał: skóra syntetyczna / guma 
Podeszwa z gumy zapewnia przyczepność 
Sztywność: 5/11 
Buty pasują do pedałów SPD m.in. PD-M530, PD-M520
Zapięcie na klamrę i rzepy 
Gumowa podeszwa wzmacniana włóknem szklanym
Cross-X-Strap poprawia komfort stopy podczas pedałowania 
Technologia Torbal poprawia równowagę oraz kontrolę roweru 
Masa: 381 g dla pojedynczego buta w roz. 42
Type

:

MALE

FASTENING SYSTEM

:

VELCRO

,

SBS

Fason

:

NISKIE



| Size | US | cm | Rzeczywista długość wkładki (mm) |
| --- | --- | --- | --- |
| 44 | 9,7 | 27,8 | 280 |
UWAGA! Aby uniknąć niepotrzebnych wymian lub zwrotów zakupionego obuwia - BARDZO PROSIMY przy doborze zamawianego rozmiaru, trzymać się poniższych zasad:
A. podane w ostatniej kolumnie długości wkładek w mm, są RZECZYWISTYMI, CAŁKOWITYMI długościami mierzonych przez nas wkładek oferowanych butów.
B. PROSIMY WYBEIRAĆ rozmiar, którego wkładka jest od 2mm do 5mm dłuższa od rzeczywistej długości bosej stopy.
C. Jak mierzyć stopę?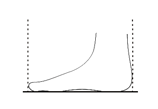 Pomiar należy wykonać od początku pięty do końca palców - najlepiej w pozycji stojącej.
Piętę przysuwamy do ściany lub np. mebla, a do palców przesuwamy prostopadle do linii stopy, np. sztywną książkę.
Mierzymy odległość pomiędzy ścianą a książką.