The Empire™VR90 is one of the lightest options available on dirt and sets the standard in high-performance off-road shoes. Highlights include a lightweight laced one-piece upper for unrivaled comfort, an Easton® EC90™ full carbon outsole and molded Vibram® rubber tread for relentless grip. The upper is made of our breathable Evofiber™ synthetic upper by Teijin® for superb fit and support that won't stretch out with wear or weather. Giro's adjustable SuperNatural Fit footbed lets you fine-tune the fit and arch support, for maximum pedaling efficiency.
Cena katalogowa: 1290PLN
UWAGA: buty NOWE po-wystawowe. Bez pokrowca i dodatkowych wkładek w zestawie, w opakowaniu zastępczym.
The one-pieceupperis made of breathable Evofiber™ Teijin® microfiber. Combined with the lightweight and durable sport laces that holds a knot, the shoe offer great comfort an a unique look.

The Easton® EC90outsolemade of unidirectional carbon fiber is extremely stiff and optimizes power transmission onto the pedals. The outsole features additionally traction lugs, a mid-foot scuff guard and threads for steel toe spikes.

Thefootbedcan be optimized due to the SuperNatural Fit Kit with adjustable arch support to prevent fatigue and is equipped with X-Static® anti-microbial fiber to keep the shoes odor-free.

Technologies:
The GiroSuperNatural Fit Systemcombines a cycling-specific footbed with an adjustable arch support kit. By simply choosing from any of the Low, Medium and High arch support included in the kit, riders and fitters can independently adjust arch support to enhance fit and pedaling efficiency while reducing or eliminating common discomforts like hotspots, numbness and cramping. The system is available in men's and women's sizes, and incorporates X-Static® fibers in the footbed to fight odors and other bacteria.

Giro worked closely with the engineering staff atEaston®to develop proprietary outsoles that provide the most direct, powerful connection to the pedals without compromising comfort. Using advanced modeling and proprietary fixturing in the extensive test lab, every outsole is engineered to provide ideal stiffness in 3 zones: Toe Arch and Heel, while maintaining the lowest possible weight and stack-height (as low as 6.5mm). Additionally, the flatter edges of Giro's outsoles allow the shoe upper material to conform to larger or wider feet (what Giro calla the "spillover" effect) without uncomfortable pinching or binding.

Giro footwear is built on proprietary cycling-specific lasts to create a fit that hugs the foot closely without binding, crowding or discomfort. ThePrecision Fit™lasts are hand-crafted specifically for cycling footwear in whole and half-sizes that are differentiated between men's and women's shoes, in order to provide the most supportive and precise fit possible in a production shoe.

X-Static®fibers are made with layers of pure silver that are permanently bonded to the surface of the fabric. Silver offers natural anti-microbial performance that helps to reduce odor and regulate heat, so your feet stay fresh and comfortable, naturally.

Vibram®is the world leader in high performance rubber soles, with technologically advanced compunds like HydroGrip, the stickiest moldable compound in the Vibram® arsenal and developed specifically for flat pedal riding in dry and wet conditions; and MegaGrip, a high performance sticky compound with significantly more durability and only a minimal decrease in friction compared to HydroGrip. All Vibram® soles are produced with three objectives: to guarantee the best performance, the maximum level of comfort and quality over time.
Included in delivery: Shoes, SuperNatural X-Static footbed kit, shoe bag, steel spikes
Material: Synthetics
Sole standard: SPD (2 hole)
Weight supplement: per shoe size 42.5 - manufacturer's specs
Type

:

MALE

FASTENING SYSTEM

:

SZNUROWANE

Mocowanie bloków

:

SPD

Podeszwa

:

CARBON

,

VIBRAM

Fason

:

NISKIE

Use

:

MTB

,

GRAVEL



| Size | US | CM | Rzeczywista długość wkładki (mm) |
| --- | --- | --- | --- |
| 41 | 9 | 26 | 257 |
UWAGA! Aby uniknąć niepotrzebnych wymian lub zwrotów zakupionego obuwia - BARDZO PROSIMY przy doborze zamawianego rozmiaru, trzymać się poniższych zasad:
A. podane w ostatniej kolumnie długości wkładek w mm, są RZECZYWISTYMI, CAŁKOWITYMI długościami mierzonych przez nas wkładek oferowanych butów.
B. PROSIMY WYBEIRAĆ rozmiar, którego wkładka jest od 2mm do 5mm dłuższa od rzeczywistej długości bosej stopy.
C. Jak mierzyć stopę?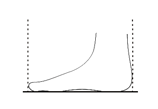 Pomiar należy wykonać od początku pięty do końca palców - najlepiej w pozycji stojącej.
Piętę przysuwamy do ściany lub np. mebla, a do palców przesuwamy prostopadle do linii stopy, np. sztywną książkę.
Mierzymy odległość pomiędzy ścianą a książką.