Shimano ET5 MTB Shoes have been designed for elite riders since they offer an unbeatable grip to a wide type of pedals, cages, pins, or terrains, while they transmit all the power to the ride and also they are very comfortable, safe, and breathable to walk or pedal.
Cena katalogowa: 500PLN
These cycling shoes are made with a rubber outsole with a blocking pattern in 360° so it guarantees the best grip both in the pedal or the ground, which makes them ideal for mountain biking and wet or complex terrains. The EVA midsole with reinforced nylon with glass fiber provides soft rigidity and excellent transmission of energy, thanks to the SPD SI system.

The upper has mesh fabric with TPU coating that increases its durability and favors ventilation inside. These mountain biking shoes include reflective details, a protective toe cap, and a Mini Power Strap lacing system that holds the foot giving you safety and support.

The ET5 E-bike Touring shoe is "designed to appeal to the casual urban/trekking e-bike rider.Regular sports shoes will deform against pedal contact over time, causing muscle fatigue in the foot and calf muscles, so the stiffer soles on the ET5 are designed to reduce rider fatigue and improve pedaling efficiency.The flat-soled ET5 comes with a rubber outsole for great grip, even in wet conditions, including a stiffer pedal area with lugs to firmly grab pedal cages and tread blocks in the front and rear for walking grip on uneven ground.
Type

:

MALE

Mocowanie bloków

:

BRAK

FASTENING SYSTEM

:

SZNUROWANE

Fason

:

NISKIE

Use

:

TOURING

,

MIEJSKIE



| Size | US | cm | Rzeczywista długość wkładki (mm) |
| --- | --- | --- | --- |
| 38 | 6,5 | 23,8 | 246 |
| 40 | 7,8 | 25,2 | 260 |
UWAGA! Aby uniknąć niepotrzebnych wymian lub zwrotów zakupionego obuwia - BARDZO PROSIMY przy doborze zamawianego rozmiaru, trzymać się poniższych zasad:
A. podane w ostatniej kolumnie długości wkładek w mm, są RZECZYWISTYMI, CAŁKOWITYMI długościami mierzonych przez nas wkładek oferowanych butów.
B. PROSIMY WYBEIRAĆ rozmiar, którego wkładka jest od 2mm do 5mm dłuższa od rzeczywistej długości bosej stopy.
C. Jak mierzyć stopę?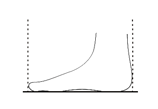 Pomiar należy wykonać od początku pięty do końca palców - najlepiej w pozycji stojącej.
Piętę przysuwamy do ściany lub np. mebla, a do palców przesuwamy prostopadle do linii stopy, np. sztywną książkę.
Mierzymy odległość pomiędzy ścianą a książką.