If you're looking for the perfect all-rounders, Northwave's Spider Plus 2 MTB Shoes are the all-mountain shoes for you, offering high-quality grip and a highly practical, comfortable design, ideal for MTB riders and trekkers alike.
Northwave's Spider Plus 2 MTB Shoes come with a X-Crossbow Michelin sole that delivers superior grip from enlarged edges and self-cleaning tread blocks. This gives you great traction over uneven terrain.
For the ultimate in comfort the shoe comes with a Thermowelded Layer Construction that combines multiple layers without overlaps which produces excellent ventilation and reduces the weight of the shoe. Ensuring protection against abrasions and impacts the interior of the shoe's construction is reinforced with thermowelding.
Delivering a stabilised fit the Spider Plus 2 MTB Shoes are developed with the SLW2 dial plus a Velcro over strap which can be fully released with the press of a single button. Additionally, soft fabric tape loops for the laces reduces pressure points.
Cena katalogowa: 685PLN 
X-Crossbow Michelin sole with self-cleaning tread blocks and enlarged edges to provide excellent grip
Thermowelded Layer Construction combines multiple layers without overlaps for excellent ventilation and reduced weight
Soft fabric tape loops for the laces reduce pressure points
Internal thermowelded reinforcements for added protection
SLW3 dial plus a Velcro over-strap: the only dial with step-by-step and full release in a single button
Podeszwa

:

MICHELIN

Type

:

WOMEN

,

MALE

FASTENING SYSTEM

:

VELCRO

,

BOA

Mocowanie bloków

:

SPD

Fason

:

NISKIE

Use

:

MTB

,

ENDURO



| Size | US | CM (wg producenta) | Rzeczywista długość wkładki (mm) |
| --- | --- | --- | --- |
| 40 | 7,5 | 25,7 | 256 |
UWAGA! Aby uniknąć niepotrzebnych wymian lub zwrotów zakupionego obuwia - BARDZO PROSIMY przy doborze zamawianego rozmiaru, trzymać się poniższych zasad:
A. podane w ostatniej kolumnie długości wkładek w mm, są RZECZYWISTYMI, CAŁKOWITYMI długościami mierzonych przez nas wkładek oferowanych butów.
B. PROSIMY WYBEIRAĆ rozmiar, którego wkładka jest od 2mm do 5mm dłuższa od rzeczywistej długości bosej stopy.
C. Jak mierzyć stopę?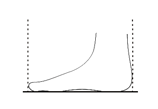 Pomiar należy wykonać od początku pięty do końca palców - najlepiej w pozycji stojącej.
Piętę przysuwamy do ściany lub np. mebla, a do palców przesuwamy prostopadle do linii stopy, np. sztywną książkę.
Mierzymy odległość pomiędzy ścianą a książką.