Buty Filter to kolejna odsłona znanego obuwia firmy SixSixOne. Filter posiada anatomiczną wkładkę wewnątrz, która dostosowuje się do kształtu stopy. Podeszwa wykonana z miękkiej mieszanki gumy doskonale "trzyma się" pedałów platformowych, a sztywna wewnętrzna wkładka jest gwarantem dobrego przeniesienia mocy nóg na napęd roweru.
Cena katalogowa: 465PLN
płaska podeszwa
wstawka z twardego nylonu wewnątrz, by zwiększyć sztywność buta
anatomiczna wkładka 
gumowany czubek
sztywna wewnętrzna podeszwa
Here to inspire outdoor sessions, the Filter SPD Clipless Shoes are extremely durable and provide the ideal range of traction to perform both on and off the bike. Sporting soft rubber compounds on the outsole, hoping off the bike and heading to the local shop for an energy drink is simple and can be done without having to change footwear.
Securing your foot for a snug fit, the Filter SPD Clipless Shoes incorporates a nylon shank to produce impressive power transfers, improving your cadence and helping you to pick up speed as you prepare for the mother of all half-cabs.
Gripping to the pedals, these shoes are perfect for keeping you dialled 24/7.
Mocowanie bloków

:

BRAK

Use

:

ENDURO

,

DH

,

MTB

Type

:

WOMEN

,

MALE



| Size | rzeczywista długość wkładki w mm |
| --- | --- |
| 38 | 247 |
| 39 | 252 |
| 41 | 261 |
| 47 | 300 |
UWAGA! Aby uniknąć niepotrzebnych wymian lub zwrotów zakupionego obuwia - BARDZO PROSIMY przy doborze zamawianego rozmiaru, trzymać się poniższych zasad:
A. podane w ostatniej kolumnie długości wkładek w mm, są RZECZYWISTYMI, CAŁKOWITYMI długościami mierzonych przez nas wkładek oferowanych butów.
B. PROSIMY WYBEIRAĆ rozmiar, którego wkładka jest od 2mm do 5mm dłuższa od rzeczywistej długości bosej stopy.
C. Jak mierzyć stopę?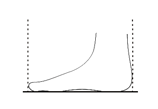 Pomiar należy wykonać od początku pięty do końca palców - najlepiej w pozycji stojącej.
Piętę przysuwamy do ściany lub np. mebla, a do palców przesuwamy prostopadle do linii stopy, np. sztywną książkę.
Mierzymy odległość pomiędzy ścianą a książką.