Elite Racing CUSTOM-FIT. Racing legacy with a perfect anatomical fit and pedaling efficiency.
Cena katalogowa: 1300PLN
Built to meet the demands of the discerning roadie, the Shimano SH-R260 Road Shoe comes loaded with a slew of features that will optimize your pedaling performance and help you focus on the ride more than you focus on the fit of your shoe. The SH-R260 features Shimano's heat-moldable Custom-fit technology that conforms to the shape of your foot and creates a comfortable mold that cradles your foot into new levels of comfort.
Through Shimano's Dynalast technology, the SH-R260's toe-spring section is optimized to promote a smoother, more energy-efficient upstroke by reducing the loss of power that occurs during the backspin direction of a pedal stroke. Once it's time to push back through the stroke, the lightweight carbon fiber composite sole provides a stiff platform that converts that saved energy in power and acceleration. This means that the whole pedal rotation serves as a cycle to produce snappier output and prolonged endurance.
The Shimano SH-R260's lightweight, cross-weave carbon fiber composite sole provides a stiff pedaling platform and ensures excellent power transfer and durability. With such a powerful blend of comfort and performance, the Shimano SH-R260 might just be the next step in your journey to road domination!
Heat moldable Custom-fit Technology
Supple premium micro-fiber leathers and multi-layered moisture control mesh
Low-profile micro-adjustable buckle and dual off-set straps supply a precise, snug fit without pressure points
Custom Fit reinforced ergonomic heel stabilizer ensures a comfortable, performance-enhancing fit
Shimano Dynalast for precise fit and improved pedaling efficiency
Lightweight, cross-weave carbon fiber composite sole
SPD-SL (3-bolt) compatible
Claimed weight: 496g (Size 40)
Type

:

MALE

Use

:

ROAD

FASTENING SYSTEM

:

SBS

,

VELCRO

Podeszwa

:

CARBON

Mocowanie bloków

:

SPD SL

,

LOOK



| Size | US | CM | Rzeczywista długość wkładki (mm) |
| --- | --- | --- | --- |
| 41 | 7,6 | 25,8 | 261 |
UWAGA! Aby uniknąć niepotrzebnych wymian lub zwrotów zakupionego obuwia - BARDZO PROSIMY przy doborze zamawianego rozmiaru, trzymać się poniższych zasad:
A. podane w ostatniej kolumnie długości wkładek w mm, są RZECZYWISTYMI, CAŁKOWITYMI długościami mierzonych przez nas wkładek oferowanych butów.
B. PROSIMY WYBEIRAĆ rozmiar, którego wkładka jest od 2mm do 5mm dłuższa od rzeczywistej długości bosej stopy.
C. Jak mierzyć stopę?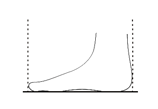 Pomiar należy wykonać od początku pięty do końca palców - najlepiej w pozycji stojącej.
Piętę przysuwamy do ściany lub np. mebla, a do palców przesuwamy prostopadle do linii stopy, np. sztywną książkę.
Mierzymy odległość pomiędzy ścianą a książką.