CX/TX Competition Last – With a profile specifically designed for very high-cadence riding & higher pressure, our Competition last features a more curved profile than the Sport last. The main differences include increased toe pitch & heel lift, a tighter heel & a slightly wider ball girth to allow the foot to expand under high pedaling pressures.
The Lake TX222 triathlon shoe combines comfort, style and ultimate performance. The upper is made from NuFoam and the liner is made from TrekDry. It creates a extreme breathable, lightweight, wicking and antimicrobial shoe. 

The shoe is closed with a dual hook and loop closure. The rigid outsole is made from Lake Race carbon fiber. The Competition last is specifically shaped for optimal power transfer and comfort. Like the CFC race last, the Competition last puts the foot in a position that allows the energy to be focused to the spindle but also offers more room for the forefoot to expand allowing for a comfortable fit for extreme long distance riding. 
LIST PRICE: 200EUR
| | |
| --- | --- |
| OUTSOLE | Lake Race 100% Carbon Fiber Sole. Available in 3 hole cleat pattern |
| UPPER | NuFOAMTM breathable & wicking shell with Trek-Dry antimicrobial liner |
| CLOSURE | |
Type

:

MALE

FASTENING SYSTEM

:

VELCRO

Mocowanie bloków

:

SPD SL

,

LOOK

Podeszwa

:

CARBON

Fason

:

NISKIE

Use

:

TRIATHLON



| Size | Rzeczywista długość wkładki (mm) |
| --- | --- |
| 43 | |
We wszystkich oferowanych przez nas butach własnoręcznie mierzymy rzeczywiste długości wkładek, które podane są w ostatniej kolumnie Tabeli Rozmiarów, pod pozycją: "Rzeczywista (mierzona) długość wkładki"
Aby właściwe dobrać rozmiar buta, należy dokonać dokładnego pomiaru własnej bosej stopy.

JAK TO ZROBIĆ?
Pomiar należy wykonać od początku pięty do końca palców - najlepiej w pozycji stojącej.
Piętę przysuwamy do ściany lub np. mebla, a do palców przesuwamy prostopadle do linii stopy, np. sztywną książkę.
Mierzymy odległość pomiędzy ścianą a książką.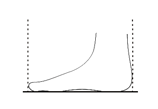 W ten sposób uzyskujemy rzeczywistą długość stopy.
Wybrany rozmiar butów powinien mieć rzeczywistą długość wkładki od 2mm do 5mm większą niż rzeczywista długość naszej stopy - w zależności od rodzaju obuwia oraz indywidualnych preferencji.