The Suplest Off Road Shoe, with its slip-proof vibram sole, have a wide domain. If it's for crossing the Alps, riding trails or for a nice freeride, these shoes will accompany you over the timberline. 
Cena katalogowa: 540PLN
Upper: The upper material of the Off-road is synthetic nubuck leather, combined with ventilation surfaces. The toe box is protected by a rubber toe-cap
Lacing System: The fixation of your foot is done with a lacing system. The laces make sure that the heel gets pulled down and back into the heel cup. The Velcro strap allows a fast and easy fixation and it also keeps the shoelaces together
Tongue:The tongue pocket offers storage for the laces, so they don't get caught by the chainrings
Insole:The Suplest Ergo 360 degrees insoles have an anatomic foot bed. This allows the foot to stay in an ergonomic position. Pre-moulded EVA with a pre-shaped multi density foam cushion offer comfort
Outsole:The Off-road is equipped with the well-known Vibram sole. The sole offers perfect traction not only whilst walking, but also on the bike
Cleat Compatibility: The Vibram sole is compatible with all the well-known pedals brands such as SPD, Look, Time and Crank Brothers
| Size | Rzeczywista długość wkladki w mm |
| --- | --- |
| 39 | 245 |
UWAGA! Aby uniknąć niepotrzebnych wymian lub zwrotów zakupionego obuwia - BARDZO PROSIMY przy doborze zamawianego rozmiaru, trzymać się poniższych zasad:
A. podane w ostatniej kolumnie długości wkładek w mm, są RZECZYWISTYMI, CAŁKOWITYMI długościami mierzonych przez nas wkładek oferowanych butów.
B. PROSIMY WYBEIRAĆ rozmiar, którego wkładka jest od 2mm do 5mm dłuższa od rzeczywistej długości bosej stopy.
C. Jak mierzyć stopę?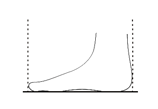 Pomiar należy wykonać od początku pięty do końca palców - najlepiej w pozycji stojącej.
Piętę przysuwamy do ściany lub np. mebla, a do palców przesuwamy prostopadle do linii stopy, np. sztywną książkę.
Mierzymy odległość pomiędzy ścianą a książką.