Każdy z elementów butów Hammer 3S został zaprojektowany tak, aby utrzymywać nogi w prawidłowej pozycji podczas przekazywania siły pedałowania bezpośrednio do tylnego koła bez strat energii. Zastosowane technologie i materiały gwarantują najwyższy stopień komfortu. Zapięcie symetrycznymi paskami zapewnia idealne utrzymywanie stopy w odpowiedniej pozycji we wszystkich warunkach, a ich waga to jedynie 356g.
Cena katalogowa: 599PLN
Przeznaczenie: MTB
Wierzch: Ultralekkie PU + Biomap
Zapięcie: SRS + Asymetryczne paski
Podeszwa: Speedlight 3D 
Waga: 355g
Wkładka: Performance Pro
Technologie: Biomap. Speedlight 3D Sole. SRS. Asymetryczne paski. Performance Pro. Wzmocnienia z PU.
Biomap: Twoja energia jest cenna i nie powinieneś jej marnować. Dlatego właśnie, nasze buty zostały wykonane przy pomocy technologii BioMap. Podeszwy Northwave tak jak i wierzch wraz ze wszystkimi częściami składowymi są anatomicznie kompatybilne ze stopą każdego rowerzysty, jak również, aby utrzymać stopę we właściwej pozycji podczas pedałowania. Przenoszą energię bezpośrednio do pedałów bez jakiejkolwiek straty.
Speedlight 3D: Podeszwa wykonana z nylonu oraz włókna szklanego. Gumowe kolce zapewniają doskonałą przyczepność.
Asymetryczne paski: Paski te to kolejna innowacja w kolekcji. Centralny pasek jest przesunięty do środka tak, by dopasować but do anatomii stopy, zmniejszyć nacisk boczny, utrzymując w ten sposób maksymalną przyczepność. Paski zostały podkreślone elementami fluorescencyjnymi.
Performance Pro: EVA i mikrofibra oferują niezwykłą lekkość wkładki, która zapewnia idealny kąt i twardość by przekazać całą energię do pedałów.
Type

:

MALE

FASTENING SYSTEM

:

VELCRO

Mocowanie bloków

:

SPD

Fason

:

NISKIE

Use

:

MTB



| Size | Rzeczywista długość wkładki w mm |
| --- | --- |
| 42 | 270 |
UWAGA! Aby uniknąć niepotrzebnych wymian lub zwrotów zakupionego obuwia - BARDZO PROSIMY przy doborze zamawianego rozmiaru, trzymać się poniższych zasad:
A. podane w ostatniej kolumnie długości wkładek w mm, są RZECZYWISTYMI, CAŁKOWITYMI długościami mierzonych przez nas wkładek oferowanych butów.
B. PROSIMY WYBEIRAĆ rozmiar, którego wkładka jest od 2mm do 5mm dłuższa od rzeczywistej długości bosej stopy.
C. Jak mierzyć stopę?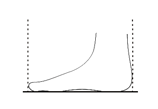 Pomiar należy wykonać od początku pięty do końca palców - najlepiej w pozycji stojącej.
Piętę przysuwamy do ściany lub np. mebla, a do palców przesuwamy prostopadle do linii stopy, np. sztywną książkę.
Mierzymy odległość pomiędzy ścianą a książką.