Komfortowe buty MTB dla kobiet. Wykonane z termoplastycznego materiału wzbogaconego karbonem i naturalnej gumy wykorzystanej w podeszwie, wszystko dla uzyskania niskiej wagi i maksymalnej przyczepności.
Italian company Northwave is known for innovation in design and performance and can truly dress you from head to toe. Northwave products represent excellence in Italian design and are tested by the best riders worldwide.
Sole: jaws carbon reinforced
Upper: ultralight pu - woman design
Upper contruction: multilayer thermowelded + airflow system
Closing system: 3 asymmetrical straps
Heel: integrated heel system
Footbed: performance advanced
Tech: pu thermowelded reinforcements
Weight: 355gr
Jaws Carbon Reinforced Sole
Made with thermoplastic material enriched with carbon powder and a natural rubber tread: get the lightest and the fastest with maximum grip even on descents.
Multilayer Thermowelded construction 
New Multilayer construction: a light microfiber is coupled with somo large thermowelded mesh vent inserts at the same thickness of a traditional monolayer. The result: better comfort and reduced weight.
AirFlow System
It's the Northwave ventilation system with large vents that lets your feet breathe: the lower vent channels air inside the sole, while the side vents guarantee a supply of fresh air.
Asymmetrical straps
The asymmetrical construction is another innovation of the collection. The central strap is moved to the center so as to follow the anatomy of the foot and reduce the pressure on the side area, because particularly sensitive. The straps have been lightened by all superfluous elements, presenting thinner thicknesses and discharged central areas, thereby maintaining maximum grip.
Integrated Heel System
The new unibody construction of the uppers allowed to integrate an efficient heel retention system inside the structure, without the need of external elements. Same efficiency, reduced weight.
Microinjected protections
Upper with microinjected reinforced protection to protect your feet from any injuries caused by branches or stones while out on the trails.
Performance Advanced Footbed
Ergonomic design: because you need to keep the perfect position when pedaling and you want comfort too.
Type

:

WOMEN

FASTENING SYSTEM

:

VELCRO

Mocowanie bloków

:

SPD

Fason

:

NISKIE

Use

:

MTB



| Size | UK | US | CM (wg producenta) | Rzeczywista mierzona długość wkładki (mm) |
| --- | --- | --- | --- | --- |
| 36 | 3.5 | 4.5 | 23.5 | 230 |
UWAGA! Aby uniknąć niepotrzebnych wymian lub zwrotów zakupionego obuwia - BARDZO PROSIMY przy doborze zamawianego rozmiaru, trzymać się poniższych zasad:
A. podane w ostatniej kolumnie długości wkładek w mm, są RZECZYWISTYMI, CAŁKOWITYMI długościami mierzonych przez nas wkładek oferowanych butów.
B. PROSIMY WYBEIRAĆ rozmiar, którego wkładka jest od 2mm do 5mm dłuższa od rzeczywistej długości bosej stopy.
C. Jak mierzyć stopę?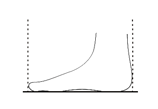 Pomiar należy wykonać od początku pięty do końca palców - najlepiej w pozycji stojącej.
Piętę przysuwamy do ściany lub np. mebla, a do palców przesuwamy prostopadle do linii stopy, np. sztywną książkę.
Mierzymy odległość pomiędzy ścianą a książką.