Rekreacyjno-sportowa konstrukcja idealna na: rowerowe wycieczki, spinning, touring czy lekkie MTB. Zoptymalizowane dla systemu pedałów SHIMANO SPD Click'R Integrated Pedal System.
Cena katalogowa: 364PLN
Buty zgodne z systemem Click'R firmy Shimano, np. modele z serii CW, to niezwykłe połączenie wygody oraz osiągów. Dwie warstwy absorbujące uderzenia EVA we wkładce i środkowej części śródstopia współpracują z elastyczną, gumową podeszwą i cholewką, zwiększając wygodę chodzenia. Ponadto nowa, wbudowana uniesiona cholewka Performance Tour ma o 5% większą wkładkę, która poprawia komfort stania i chodzenia. Nie ma to wpływu jednak na wydajność pedałowania dzięki śródstopiu w kształcie drabiny oraz zatrzaskowi pedała.
But CW41L posiada boczny wzór zaprojektowany dla wygody i lepszego dopasowania. Pojedynczy pasek ułatwia utrzymanie sznurowadeł na miejscu. Komfortowa wkładka amortyzująca uderzenia EVA. Cholewka Performance Tour, anatomiczny kształt, wygięty nos buta dla zwiększenia wygody na rowerze i po zejściu z niego. Nasadka pozycjonująca blok ułatwiająca osobom bez doświadczenia jazdę z pedałami Click'R.
Wierzch:
Siatkowy wierzch zapewnia komfort i przewiewność
Klasyczne, sznurowane zapięcie zapewniające równomierne naprężenie i wygodę chodzenia
Kieszeń na sznurowadło umożliwia łatwe wsunięcie sznurówki
Wkładka:
Wkładka CT, komfortowa wkładka amortzowana EVA
Forma:
Forma buta Performance Tour dla komforowego dopasowania na rowerze i podczas chodzenia
Podeszwa:
Pochłaniająca drgania wewnętrzna część podeszwy z pianki EVA z elastycznym usztywnieniem śródstopia o konstrukcji drabinowej zwiększa komfort podczas jazdy i chodzenia
Osłony otworów bloków w komplecie
Najlepiej dopasowane do pedałów PD-T420 Shimano
Type

:

WOMEN

Mocowanie bloków

:

SPD

Fason

:

NISKIE

Use

:

MTB

,

SPINNING / INDOOR CYCLING



| Size | Rzeczywista długość wkładki (mm) |
| --- | --- |
| 37 | 244 |
UWAGA! Aby uniknąć niepotrzebnych wymian lub zwrotów zakupionego obuwia - BARDZO PROSIMY przy doborze zamawianego rozmiaru, trzymać się poniższych zasad:
A. podane w ostatniej kolumnie długości wkładek w mm, są RZECZYWISTYMI, CAŁKOWITYMI długościami mierzonych przez nas wkładek oferowanych butów.
B. PROSIMY WYBEIRAĆ rozmiar, którego wkładka jest od 2mm do 5mm dłuższa od rzeczywistej długości bosej stopy.
C. Jak mierzyć stopę?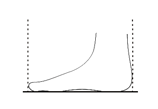 Pomiar należy wykonać od początku pięty do końca palców - najlepiej w pozycji stojącej.
Piętę przysuwamy do ściany lub np. mebla, a do palców przesuwamy prostopadle do linii stopy, np. sztywną książkę.
Mierzymy odległość pomiędzy ścianą a książką.