A training and sportive shoe that combines comfort, ventilation and strength. The stiff sole provides optimum power transfer and the micrometric fastening ensures a safe and comfortable fit over long distances.
Cena katalogowa: 720PLN
2 systemy mocowania bloków: LOOK/SPD SL - na 3 śruby oraz SPD - na 2 śruby!
2 komplety wkładek: ZIMOWE i LETNIE
Robust, elegant design
Precision micrometric fastening
Large ventilated surface for air flow and moisture transport
Rigid polyamide and glass fibre soleInner reinforcement on heelpiece
Ventilated toe cap
Airing shell systemWeight: 675g
Comfort, reliability and functional performance are the pillars upon which the design of SPIUK footwear is based. In top competition, the lightness and stiffness of the sole are the qualities that provide the best performance and the optimum transmission of energy to the pedal. A studied design, together with the choice of the latest materials to suit each use, guarantees the versatility and effectiveness of each model.
Type

:

MALE

,

WOMEN

FASTENING SYSTEM

:

VELCRO

,

SBS

Mocowanie bloków

:

SPD SL

,

LOOK

,

SPD

Fason

:

NISKIE

Use

:

ROAD



| Size | Rzeczywista długość wkładki (mm) |
| --- | --- |
| 39 | 246 |
UWAGA! Aby uniknąć niepotrzebnych wymian lub zwrotów zakupionego obuwia - BARDZO PROSIMY przy doborze zamawianego rozmiaru, trzymać się poniższych zasad:
A. podane w ostatniej kolumnie długości wkładek w mm, są RZECZYWISTYMI, CAŁKOWITYMI długościami mierzonych przez nas wkładek oferowanych butów.
B. PROSIMY WYBEIRAĆ rozmiar, którego wkładka jest od 2mm do 5mm dłuższa od rzeczywistej długości bosej stopy.
C. Jak mierzyć stopę?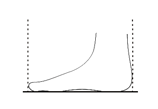 Pomiar należy wykonać od początku pięty do końca palców - najlepiej w pozycji stojącej.
Piętę przysuwamy do ściany lub np. mebla, a do palców przesuwamy prostopadle do linii stopy, np. sztywną książkę.
Mierzymy odległość pomiędzy ścianą a książką.