Gran Canion 2 GTX łączy najbardziej zaawansowane rozwiązania i najnowsze technologie produkcji z najwyższą jakością. Zastosowana do jego budowy membrana Gore-Tex sprawia, że model ten jest wodoodporny i ma wysoki wskaźnik oddychalności. Podeszwa Vibram Sharp Claw jest sztywna i świetnie nada się zarówno do jazdy na rowerze jak i chodzenia.
Cena katalogowa: 949PLN
Przeznaczenie: All Mountain
Wierzch: Gore-Tex
Zapięcie: SL + paski
Podeszwa: Vibram Sharp Claw
Waga: 512g
Wkładka: Special GTX
Technologie:
Multilayer Thermowelded Construction: Nowa konstrukcja wielowarstwowa: Lekka mikrofibra połączona jest z insertami wentylacyjnymi z dużej termoprzewodzącej siateczki zachowując grubość pojedynczej warstwy. Dzięki zastosowanym technologiom otrzymaliśmy zwiększony komfort i zredukowaną wagę. 
Membrana Gore-Tex: Całkowicie wodoodporna membrana z maksymalnym współczynnikiem oddychalności. 
Vibram Sharp Claw: Najlżejsza podeszwa freerideowa kiedykolwiek stworzona przez Vibram. Zapewnia najlepszą przyczepność na każdej nawierzchni, a sztywna wkładka zwiększa komfort podczas chodzenia. Dodatkowo zastosowanie w jej wnętrzu pianki EVA umożliwia absorpcję wstrząsów. 
Extreme Air Footbed: Wkładka jest ultralekka, antyalergiczna i antybakteryjna oraz posiada liczne otwory które gwarantują wyjątkową wentylację stopy.  
AirFlow System: Jest to system wentylacji z dużymi otworami, które pozwalają na lepsze oddychanie stopy podczas jazdy. 
Speed Lace Closing System: Speed Lace to szybki i funkcjonalny system zapinania butów, zapewniający dobre trzymanie stopy. Wystarczy podnieść sznurowadło i opuścić mechanizm, który automatycznie się zablokuje w pożądanym miejscu.
Podane długości wkładek, są rzeczywistymi-zmierzonymi przez nas. Od podanej długości wkładki należy odjąć około 5mm i w ten sposób otrzymujemy długość bosej stopy odpowiedni dla danego rozmiaru buta.
Jak zmierzyć stopę? Najlepiej postawić bosą stopę pomiędzy 2 prostopadłymi "ściankami" (np. mebel lub ściana i sztywna książka) i zmierzać odległość pomiędzy tymi "ściankami".
Type

:

MALE

,

WOMEN

FASTENING SYSTEM

:

VELCRO

,

ZACIĄGANE

Mocowanie bloków

:

SPD

Fason

:

WYSOKIE

Podeszwa

:

VIBRAM

Membrana

:

GORE-TEX

Use

:

MTB

,

MTB autumn/ winter

,

TOURISM

,

ENDURO



| Size | UK | US | CM (wg producenta) | Rzeczywista mierzona długość wkładki (mm) |
| --- | --- | --- | --- | --- |
| 42 | 8,5 | 9,5 | 27.3 | 271 |
UWAGA! Aby uniknąć niepotrzebnych wymian lub zwrotów zakupionego obuwia - BARDZO PROSIMY przy doborze zamawianego rozmiaru, trzymać się poniższych zasad:
A. podane w ostatniej kolumnie długości wkładek w mm, są RZECZYWISTYMI, CAŁKOWITYMI długościami mierzonych przez nas wkładek oferowanych butów.
B. PROSIMY WYBEIRAĆ rozmiar, którego wkładka jest od 2mm do 5mm dłuższa od rzeczywistej długości bosej stopy.
C. Jak mierzyć stopę?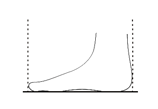 Pomiar należy wykonać od początku pięty do końca palców - najlepiej w pozycji stojącej.
Piętę przysuwamy do ściany lub np. mebla, a do palców przesuwamy prostopadle do linii stopy, np. sztywną książkę.
Mierzymy odległość pomiędzy ścianą a książką.