Buty / sandały rowerowe idealne do spinningu i turystyki rowerowej. Niezwykle lekkie, ale sztywne, gdy to konieczne i bardzo wygodne. Idealny dla każdego, kto poszukuje odpowiedniej wydajności podczas Spinningu. Bardzo przewiewna góra i pewne zapięcie na 2 rzepy pozwalają czerpać maksimum przyjemności z każdej minuty treningu. 
Cena katalogowa: 359PLN
Górna warstwa buta uszyta z przewiewnej siateczki pozwala stopie oddychać, a specjalne usztywnienia w tylnej części huta utrzymują stopę na miejscu, dodatkowy rzep na pięcie pozwala maksymalnie dopasować trzymanie stopy do własnych potrzeb podczas pedałowania.
Podeszwa w tym bucie została specjalnie zaprojektowana do użytku wewnątrz pomieszczeń, jest niezwykle lekka, ale również sztywna. Specjalny profil podeszwy pozwala wygodnie poruszać się w tych butach a dzięki miejscu na bloki można łatwo przekształcić te buty w profesjonalne narzędzie do treningów Spinning. 
Wkładka Performance Advanced została ergonomicznie zaprojektowana ze specjalnym sklepieniem dla optymalnego komfortu i utrzymania odpowiedniej pozycji stopy podczas pedałowania.
Heel Stabilizer to dodatkowe wzmocnienie zewnętrznej powłoki które daje tylnej części buta dodatkową stabilność. Dodatkowe wzmocnienie na podbiciu gwarantuje doskonałe trzymanie stopy oraz zapobiega przesuwaniu się pięty do góry podczas pedałowania.
Type

:

WOMEN

,

MALE

FASTENING SYSTEM

:

VELCRO

Fason

:

NISKIE

Use

:

SPINNING / INDOOR CYCLING

,

TOURISM

,

TOURING



| Size | UK | US | CM (wg producenta) | Rzeczywista mierzona długość wkładki (mm) |
| --- | --- | --- | --- | --- |
| 39 | 6 | 7 | 25,5 | 252 |
| 41 | 7,5 | 8,5 | 27 | 266 |
| 42 | 8,5 | 9,5 | 27,5 | 272 |
UWAGA! Aby uniknąć niepotrzebnych wymian lub zwrotów zakupionego obuwia - BARDZO PROSIMY przy doborze zamawianego rozmiaru, trzymać się poniższych zasad:
A. podane w ostatniej kolumnie długości wkładek w mm, są RZECZYWISTYMI, CAŁKOWITYMI długościami mierzonych przez nas wkładek oferowanych butów.
B. PROSIMY WYBEIRAĆ rozmiar, którego wkładka jest od 2mm do 5mm dłuższa od rzeczywistej długości bosej stopy.
C. Jak mierzyć stopę?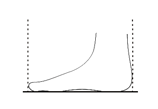 Pomiar należy wykonać od początku pięty do końca palców - najlepiej w pozycji stojącej.
Piętę przysuwamy do ściany lub np. mebla, a do palców przesuwamy prostopadle do linii stopy, np. sztywną książkę.
Mierzymy odległość pomiędzy ścianą a książką.