Doskonałe buty szosowe z podeszwą CARBON Reinforcement. Podeszwa z termoplastycznego materiału Zytel DuPont usztywniona dzięki CARBON Reinforcement. Cholewka z super lekkiego i wytrzymałego poliuretanu. Dobrze wentylowane. Anatomiczna, komfortowa wkładka. Kompatybilne z pedałami LOOK / SHIMANO SPD SL.

Cena katalogowa: 430PLN
UWAGA: buty rozparowane: LEWY EU37 wkładka 239mm / PRAWY EU36 wkładka 234mm
podeszwa: ST 5:6 Carbon reinforced sole
cholewka: Ultralight PU, Multilayer Thermowelded + system wentylacji Airflow
Upper with Airmesh inserts
3 straps closure system
Omega Heel
Performance Advanced footbed
Mid Range road cycling shoes with lightweight strap closures and a carbon reinforced sole.
ST 5:6 - NRG Carbon Reinforced Sole
A nylon matrix is filled with fiberglass and enriched with carbon powder, giving the sole excellent stiffness.

Omega Heel
Guarantees excellent grip and maximum protection combined with the advantage of low weight. The rigid profile stabilizes the heel even under maximum load. The rear air vents allow heat to escape for comfort.

Performance Advanced Footbed
The ergonomic design of the new arch support ensures optimum comfort and guarantees an excellent position when pedalling.
Type

:

WOMEN

,

MALE

Podeszwa

:

CARBON

FASTENING SYSTEM

:

VELCRO

Mocowanie bloków

:

LOOK

,

SPD SL

Use

:

ROAD



| Size | UK | US | cm | Rzeczywista mierzona długość wkładki (mm) |
| --- | --- | --- | --- | --- |
| 37 | 4.5 | 5.5 | 24,5 | 234 |
UWAGA! Aby uniknąć niepotrzebnych wymian lub zwrotów zakupionego obuwia - BARDZO PROSIMY przy doborze zamawianego rozmiaru, trzymać się poniższych zasad:
A. podane w ostatniej kolumnie długości wkładek w mm, są RZECZYWISTYMI, CAŁKOWITYMI długościami mierzonych przez nas wkładek oferowanych butów.
B. PROSIMY WYBEIRAĆ rozmiar, którego wkładka jest od 2mm do 5mm dłuższa od rzeczywistej długości bosej stopy.
C. Jak mierzyć stopę?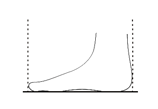 Pomiar należy wykonać od początku pięty do końca palców - najlepiej w pozycji stojącej.
Piętę przysuwamy do ściany lub np. mebla, a do palców przesuwamy prostopadle do linii stopy, np. sztywną książkę.
Mierzymy odległość pomiędzy ścianą a książką.