The Enduro features a larger, more roomy toebox while providing increased foot control through the heel and saddle of the foot. The extremely robust Ultra Bomb Enduro sole, equipped with ice-Lock Anti-slip inserts, makes this MTB shoe suitable for the toughest areas. Neither cold nor difficult terrain can harm him! The upper shoe is made from microfiber, the toe area is provided with mesh material. The adjustable BOA Push/Pull IP1 lacing system can be precisely and smoothly adapt to the foot and avoids uncomfortable pressure points. Suitable for SPD and cage pedals.
LIST PRICE: 199€
Upper: Clarino Microfiber and abrasion resistant Tektile panels. The MX168 features form fitting, durable and breathable microfiber and mesh upper with a comfortable and secure BOA® closure.
Outsole: Ultra Bomb proof Enduro Sole with Ice Lock anti-slip lug inserts. What really shines on the MX168 is the sole system. Not only does the MX168 feature Lake's Legendary Fiberglass injected Nylon sole, but also one of the most technically advanced rubber soles. The rubber sole features ICE LOCK tread inserts, which are vertically injected micro glass fibers that grip virtually all surfaces. This gives you an all conditions cycling shoe that is sure footed and stable in any situation.
Closure: Easy Replaceable Tongue Mounted IP1 BOA® lacing system with dual hook loop straps. The unique Tongue mounted BOA® closure is completely adjustable to find the perfect location on the foot and it is extremely easy to replace for quick maintenance.
O marce LAKE:
Amerykańska fmarka LAKE istnieje na rynku od 1982 roku, od samego początku specjalizuje się w produkcji butów rowerowych. Jej produkty wyróżnia unikalny design i zastosowanie opatentowanych nowoczesnych rozwiązan nie spotykanych wśród inny producentów butów. LAKE jest marką która produkuje buty tylko klasy średniej i wyższej. . Możemy śmiało ja porównać do takich marek jak SIDI, GAERNE.
LAKE o sobie:
Istnieje wiele firm masowo produkujących buty kolarskie. Ale dopóki oni będą prowadzić produkcję masową, my nadal będziemy robić buty w ten sam sposób jak przez ostatnich 25 lat, używając FSD - funkcji szczegółowego projektu oraz zaawansowanych technologii dla stworzenia butów dla wszystkich warunków i stylów jazdy. Lake wie, że obuwie jakiego potrzebują rowerzyści jest uzależnione od typu jazdy jaki uprawiasz, jaki poziom trudności jazdy sobie narzucasz i środowiska w jakim jeździsz. Kolarstwo szosowe, kolarstwo górskie, triathlon, zimowa jazda na rowerze, przejażdżki, czy droga do sklepu na rogu ulicy. Nie ma butów, które pasują do wszystkich typów jazdy, więc robimy buty dostosowane do indywidualnych użytkowników oraz ich indywidualnej jazdy. W tym roku, podobnie jak każdy innym, wykorzystaliśmy najbardziej zaawansowane materiały z całego świata do stworzenia linii obuwia tylko tak wyjątkowe, jak są wyjątkowi rowerzyści, którzy w nich jeżdżą.
Type

:

WOMEN

FASTENING SYSTEM

:

VELCRO

,

BOA

Mocowanie bloków

:

SPD

Fason

:

NISKIE

Use

:

MTB

,

ENDURO



| Size | US | rzeczywista długość wkładki w mm |
| --- | --- | --- |
| 36 | 4,5 | 225 |
| 37 | 5,5 | 232 |
| 38 | 6,5 | 236 |
UWAGA! Aby uniknąć niepotrzebnych wymian lub zwrotów zakupionego obuwia - BARDZO PROSIMY przy doborze zamawianego rozmiaru, trzymać się poniższych zasad:
A. podane w ostatniej kolumnie długości wkładek w mm, są RZECZYWISTYMI, CAŁKOWITYMI długościami mierzonych przez nas wkładek oferowanych butów.
B. PROSIMY WYBEIRAĆ rozmiar, którego wkładka jest od 2mm do 5mm dłuższa od rzeczywistej długości bosej stopy.
C. Jak mierzyć stopę?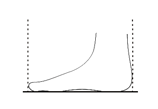 Pomiar należy wykonać od początku pięty do końca palców - najlepiej w pozycji stojącej.
Piętę przysuwamy do ściany lub np. mebla, a do palców przesuwamy prostopadle do linii stopy, np. sztywną książkę.
Mierzymy odległość pomiędzy ścianą a książką.