The Northwave Overland Plus All Terrain Shoe offers numerous features with which you can really get going on your enduro mountain adventures. The high performance shoe is extremely light and comfortable and designed for the most difficult terrains. Its VIBRAM sole ensures your safety while you show full commitment. The high-quality rubber of the sole ensures excellent grip even when walking and pushing the bike. If you're a fan of e-bikes and trail rides and are looking for a shoe that will support you on long days on the saddle and be suitable for a short break, this is the shoe for you.
Cena katalogowa: 750PLN
WWW: OVERLAND PLUS (northwave.com)
Vibram Fort Augustus clipless sole designed to empower traction and braking with an unparalleled grip on wet and dry surfaces EVA midsole to reduce weight and improve shock absorbing.
Thermowelded layer construction provides superior protection with minimized thickness and weight.
The small insert in TPU makes the shoes highly abrasion resistant and protects from frequents impacts.
Dual closure system that combines velcro with our SLW3. This solution controls the pressure distribution on the upper arch of the foot to avoid unnecessary pinch points and hot spots while riding.
The combo works perfectly on the entire foot: the SLW3 rotor tightens the shoes from mid instep to toes, while the strap focuses on securing the upper arch.
Ripstop reinforced shoes upper and tongue to enhance durability and allow your shoes to be worn in any conditions.
Tongue made with a thin layer of padding for maximum comfort even when you are handling extended miles.
The rear part is carefully designed to adapt to your heel avoiding slippage and delivering a precision fit at all time.
440g
SLW2:

The only one closure system that offers step by step and full opening release with just 1 single trigger.
It allows to distribute the pressure along the entire surface, eliminating hotspots and provide glove-like fit.
Ultra-fast: you can tighten or loosen the shoe in a flash.
Pull to release: pull the button to instantly undo the shoe completely
Type

:

MALE

,

WOMEN

FASTENING SYSTEM

:

VELCRO

,

BOA [eng]

Mocowanie bloków

:

SPD

Fason

:

WYSOKIE

,

ŚREDNIE

Podeszwa

:

VIBRAM

Membrana

:

GORE-TEX

Use

:

MTB

,

MTB autumn/ winter

,

TOURISM

,

ENDURO



| Size | US | CM (wg producenta) | Rzeczywista długość wkładki w mm |
| --- | --- | --- | --- |
| 38 | 6,5 | 24,4 | 242 |
| 41 | 8,5 | 26,4 | 262 |
| 42 | 9,5 | 27 | 268 |
UWAGA! Aby uniknąć niepotrzebnych wymian lub zwrotów zakupionego obuwia - BARDZO PROSIMY przy doborze zamawianego rozmiaru, trzymać się poniższych zasad:
A. podane w ostatniej kolumnie długości wkładek w mm, są RZECZYWISTYMI, CAŁKOWITYMI długościami mierzonych przez nas wkładek oferowanych butów.
B. PROSIMY WYBEIRAĆ rozmiar, którego wkładka jest od 2mm do 5mm dłuższa od rzeczywistej długości bosej stopy.
C. Jak mierzyć stopę?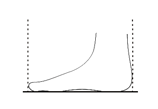 Pomiar należy wykonać od początku pięty do końca palców - najlepiej w pozycji stojącej.
Piętę przysuwamy do ściany lub np. mebla, a do palców przesuwamy prostopadle do linii stopy, np. sztywną książkę.
Mierzymy odległość pomiędzy ścianą a książką.