The Enduro Mid from Northwave goes into the second round! With new features such as a mid-cut design for improved ankle protection and comfort, a new toe cap with thermowelded TPU reinforcement and wider velcro straps, it ensures that you are optimally equipped for the fastest descents.
Cena katalogowa: 860PLN 
X-Fire sole with Fast-Clipping design and Michelin rubber tread for impressive grip on and off the pedals
New mid-cut design for improved ankle protection and comfort
Thermowelded ply construction with thermowelded internal reinforcements provides maximum protection with reduced thickness and weight
Soft fabric lacing eyelets reduce pressure points
Rubber print on the heel
New toe cap with thermowelded TPU reinforcement
SLW3 twist button with new wider extra Velcro closure: the only closure with gradual loosening and complete opening with just one button
Perforated upper ensures optimal ventilation
With knob protection
Michelin X-Fire sole
Aggressive studs in the toe and heel area provide more grip on muddy and slippery surfaces. The finely lugged sipe profile provides stability and optimal grip.
The exclusive design in the area of the cleat mount with a flat grooved surface structure makes it possible to click in faster and provides better grip on the pedal spikes when you are not clicked in - for example when descending or on tricky trails. The X-Crossbow construction improves flexibility in the heel area and optimizes damping.
S.L.W.3
The new SLW3, developed by X-Dial, is absolutely unique and offers ultra-fast, micrometer-precise fastening. This compact mechanism is very easy and intuitive to use. Simply push the button for step-by-step opening - or lift the button to completely open the shoe instantly.
Podeszwa

:

MICHELIN

Type

:

MALE

,

WOMEN

FASTENING SYSTEM

:

VELCRO

,

BOA

Mocowanie bloków

:

SPD

Fason

:

ŚREDNIE

Use

:

MTB

,

ENDURO



| Size | US | CM (wg producenta) | Rzeczywista długość wkładki w mm |
| --- | --- | --- | --- |
| 42 | 9,5 | 27 | 270 |
UWAGA! Aby uniknąć niepotrzebnych wymian lub zwrotów zakupionego obuwia - BARDZO PROSIMY przy doborze zamawianego rozmiaru, trzymać się poniższych zasad:
A. podane w ostatniej kolumnie długości wkładek w mm, są RZECZYWISTYMI, CAŁKOWITYMI długościami mierzonych przez nas wkładek oferowanych butów.
B. PROSIMY WYBEIRAĆ rozmiar, którego wkładka jest od 2mm do 5mm dłuższa od rzeczywistej długości bosej stopy.
C. Jak mierzyć stopę?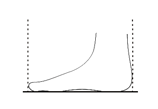 Pomiar należy wykonać od początku pięty do końca palców - najlepiej w pozycji stojącej.
Piętę przysuwamy do ściany lub np. mebla, a do palców przesuwamy prostopadle do linii stopy, np. sztywną książkę.
Mierzymy odległość pomiędzy ścianą a książką.