The Clan is equipped with a sole that features the exclusive Northwave flat system that's specially developed to deliver total control. The co-developed MICHELIN-NW compound tread ensures unprecedented grip on the pedals. A one of a kind, the adaptive TPU shank with openings and calibrated stiffness ensures greater control and support. The EVA midsole provides efficient shock absorption.

The shoe has an abrasion-resistant welded upper with large breathable mesh inserts. Welded TPU reinforcements on the toe and heel offer impact protection. The mesh tongue with customized padding combines protection and breathability. Non-stretch laces are easily stowed in the elasticated keeper.
Cena katalogowa: 730PLN 
MORE THAN A SOLE: THE FIRST FLAT-SPECIFIC SOLE SYSTEM
Feet anchored to the pedals with no clips. You need more than just a simple sole to achieve this: that's why we have developed the first flat-specific sole system featuring three different components working in synergy to provide total control of the pedals.
1) SHOCK ABSORBING MIDSOLE
The EVA midsole minimizes weight while ensuring effective shock absorption.
2) UNPRECEDENTED CONTROL WITH THE TPU ADAPTIVE SHANK
A one of a kind, the TPU adaptive shank with calibrated stiffness ensures greater control, support, and stress response. The lengthwise openings along the medial zone and heel contain flexion and control torsion for perfect connectivity with the pedals. The horizontal wedge openings on the toe enable the flexion of the foot to be controlled on and off the bike.
3) THE STICKIEST RUBBER COMPOUND
Two years of testing to find the perfect compound. One promise: to provide the ultimate grip on the pedals when it's dry or wet on tricky trails with uneven terrain and the tyres no longer stick to the ground. This promise inspired the exclusive Gecko+ compound co-developed by MICHELIN and NORTHWAVE. The integrated rubber arch support ensures enhanced stability on the pedals and increased impact protection.
ALL-MOUNTAIN FIT:
Specially designed for all-mountain wear. This shape transfers the power to the pedals but also has a wider sole, larger toe and more spacious heel so shoes feel just as great when walking.
Podeszwa

:

MICHELIN

Type

:

WOMEN

,

MALE

FASTENING SYSTEM

:

SZNUROWANE

Mocowanie bloków

:

BRAK

Fason

:

NISKIE

Use

:

MTB

,

ENDURO



| Size | US | CM (wg producenta) | Rzeczywista długość wkładki w mm |
| --- | --- | --- | --- |
| 42 | 9,5 | 27 | 268 |
UWAGA! Aby uniknąć niepotrzebnych wymian lub zwrotów zakupionego obuwia - BARDZO PROSIMY przy doborze zamawianego rozmiaru, trzymać się poniższych zasad:
A. podane w ostatniej kolumnie długości wkładek w mm, są RZECZYWISTYMI, CAŁKOWITYMI długościami mierzonych przez nas wkładek oferowanych butów.
B. PROSIMY WYBEIRAĆ rozmiar, którego wkładka jest od 2mm do 5mm dłuższa od rzeczywistej długości bosej stopy.
C. Jak mierzyć stopę?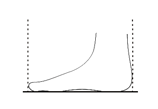 Pomiar należy wykonać od początku pięty do końca palców - najlepiej w pozycji stojącej.
Piętę przysuwamy do ściany lub np. mebla, a do palców przesuwamy prostopadle do linii stopy, np. sztywną książkę.
Mierzymy odległość pomiędzy ścianą a książką.