The X-Trail Plus from Northwave convinces with its midsole, which allows a power transfer like an XC shoe. At the same time, the Michelin sole gives you a very good walking feeling. The reinforced upper is highly breathable. The shoe is equipped with the SLW2 closure system, which allows it to adapt perfectly to the foot.
Cena katalogowa: 640PLN 
Explorer sole with a calibrated stiffness midsole combines optimal power transfer in the pedal area with an ideally flexible medial zone so it also feels great when walking
28% more abrasion resistant than TPU, the Michelin rubber tread provides excellent grip on all surfaces
Extremely comfortable 3D mesh upper coated with a highly wear-resistant protective film with strategically placed impact-resistant reinforcements
Laser perforated vents
SLW2 dial, the only dial with step-by-step and full release in a single button plus 2 asymmetrical straps
Weight: approx. 360 g per shoe
S.L.W. 2
Maximum precision and usability. The side button offers dual functionality: press the button for micrometric release, or lift the button to instantly undo the shoe completely. The ergonomic shape of the ratchet base matches the shape of the foot for added comfort, while the size and minimized weight plus the outer soft-touch covering make it easier and better to grip. It features wires that harness the best technologies used in sailing, and can be easily replaced.
Explorer Sole
Northwave developed this sole with Michelin Technical Soles to combine XC performance with the traction to walk securely on any terrain. The calibrated stiffness midsole unleashes pure power in the pedal area, while the more flexible medial zone makes it feel great when walking. The tread, whose pattern is inspired by two Michelin off-road tyres, and the outer shell are made from 100% Michelin rubber which is 28% more wear resistant than TPU and delivers excellent grip in all weathers.
Podeszwa

:

MICHELIN

Type

:

WOMEN

FASTENING SYSTEM

:

BOA

Mocowanie bloków

:

SPD

Fason

:

NISKIE

Use

:

MTB

,

ENDURO



| Size | UK | US | CM | Rzeczywista mierzona długość wkładki (mm) |
| --- | --- | --- | --- | --- |
| 38 | | | 24 | 245 |
| 41 | | | | 264 |
UWAGA! Aby uniknąć niepotrzebnych wymian lub zwrotów zakupionego obuwia - BARDZO PROSIMY przy doborze zamawianego rozmiaru, trzymać się poniższych zasad:
A. podane w ostatniej kolumnie długości wkładek w mm, są RZECZYWISTYMI, CAŁKOWITYMI długościami mierzonych przez nas wkładek oferowanych butów.
B. PROSIMY WYBEIRAĆ rozmiar, którego wkładka jest od 2mm do 5mm dłuższa od rzeczywistej długości bosej stopy.
C. Jak mierzyć stopę?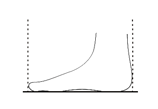 Pomiar należy wykonać od początku pięty do końca palców - najlepiej w pozycji stojącej.
Piętę przysuwamy do ściany lub np. mebla, a do palców przesuwamy prostopadle do linii stopy, np. sztywną książkę.
Mierzymy odległość pomiędzy ścianą a książką.