Ergo comes fitted with the new Carbon Lite Sole. The shoe is made from Vernice Microfibre for an extremely comfortable fit.
Cena katalogowa: 1700PLN
Upper in Vernice Microfibre and nylon mesh
Soft Instep Closure System
Tecno II System
Caliper BuckleHigh Security Velcro straps
Adjustable Heel Retention Device
Sidi heel
Replaceable heel cup
New Carbon Lite Sole
Vernice Microfibre: A synthetic material that is resistant to dirt thanks to an ultra-smooth outer surface. Clean with mild soap and towel dry, do not expose to heat. Use of alchol or abrasive cleaners is not recommended as this would damage the surface coating.

Soft Instep Closure System: The wide, padded strap is coupled to a soft, thermoformed material to increase comfort and performance. It distributes pressure evenly over the arch area and is adjustable from both sides for perfect centering. The system elimates the need for the High Instep Extender and uses the SL and Caliper buckle straps, which are serviceable and replaceable.

Tecno II System: The Tecno II buckle uses monofilament line and a fine tooth ratchet for smooth adjustment and even pressure distribution. This allows frontal micrometric closure and adapts the upper part of the shoe to the shape of the foot for a customized fit. The Tecno II system is now smaller and more easily replaceable.

Caliper Buckle: The micrometric closure is regulated by lifting the central buckle. In order to completely open, elevator together both sides buckles. To slightly loosen the closure while riding, push down the central clip.

High Security Velcro: The high security straps with integrated locking polymer teeth engage onto each other when the strap is closed. This feature makes the closure more secure and the strap becomes unmovable.

Adjustable Heel Retention Device: New technology for the heel cup system. The adjustable heel retention device reinforces the top of the heel cup and improves fit by closing the back of the shoe more securely around the riders ankle. The Heel Retention Device tightens the top of the heel cup so that it doesn't slip during steep climbs or sprints. It can be adjusted with two small screws that tighten independently. For a custom adjustment turn the screw towards the + sign to tighten or towards the - sign to loosen.

Sidi Heel: The reinforced heel keeps the foot in position and avoids the shoe being deformed by extreme performance or prolonged pressure.
Type

:

MALE

Mocowanie bloków

:

SPD SL

,

LOOK

FASTENING SYSTEM

:

SBS

,

VELCRO

,

BOA

Use

:

ROAD

Podeszwa

:

CARBON



| Size | US | CM | rzeczywista dlugość wkładki w mm |
| --- | --- | --- | --- |
| 41 | 7,5 | 25,5 | 253 |
UWAGA! Aby uniknąć niepotrzebnych wymian lub zwrotów zakupionego obuwia - BARDZO PROSIMY przy doborze zamawianego rozmiaru, trzymać się poniższych zasad:
A. podane w ostatniej kolumnie długości wkładek w mm, są RZECZYWISTYMI, CAŁKOWITYMI długościami mierzonych przez nas wkładek oferowanych butów.
B. PROSIMY WYBEIRAĆ rozmiar, którego wkładka jest od 2mm do 5mm dłuższa od rzeczywistej długości bosej stopy.
C. Jak mierzyć stopę?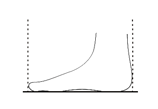 Pomiar należy wykonać od początku pięty do końca palców - najlepiej w pozycji stojącej.
Piętę przysuwamy do ściany lub np. mebla, a do palców przesuwamy prostopadle do linii stopy, np. sztywną książkę.
Mierzymy odległość pomiędzy ścianą a książką.
!!!UWAGA W tych BUTACH SIDI wybrany rozmiar butów powinien mieć rzeczywistą długość wkładki podobną do rzeczywistej długości naszej stopy.