Jaws sole with a stiffness index of 6.0 and natural rubber tread for enhanced grip. Upper with minimized stitching for greater comfort 2 velcro straps

Podeszwa Jaws MTB
Wysoka sztywność i doskonała waga. Podeszwa Jaws składa się z wkładu z włókna szklanego i podeszwy z naturalnej gumy, która gwarantuje maksymalną przyczepność w warunkach terenowych.

Wkładka Performance Advanced
Ergonomicznie zaprojektowane sklepienie dla optymalnego komfortu i utrzymania odpowiedniej pozycji stopy podczas pedałowania.

Heel Stabilizer
Wzmacniana zewnętrzna powłoka daje tylnej części buta dodatkową stabilności. Dodatkowe wzmocnienie na podbiciu gwarantuje doskonałe trzymanie stopy oraz zapobiega przesuwaniu się pięty do góry podczas pedałowania.
Podeszwa: Jaws
Wierzch: PU z Airmesh
Zapięcie: 2 rzepy
Wkładka: Performance Advanced
Przeznaczenie: MTB
Bloki: 2 śruby SPD
Type

:

MALE

,

WOMEN

FASTENING SYSTEM

:

VELCRO

Mocowanie bloków

:

SPD

Fason

:

NISKIE

Use

:

MTB



| Size | US | CM | Rzeczywista mierzona długość wkładki (mm) |
| --- | --- | --- | --- |
| 42 | 9,5 | 27,3 | 271 |
UWAGA! Aby uniknąć niepotrzebnych wymian lub zwrotów zakupionego obuwia - BARDZO PROSIMY przy doborze zamawianego rozmiaru, trzymać się poniższych zasad:
A. podane w ostatniej kolumnie długości wkładek w mm, są RZECZYWISTYMI, CAŁKOWITYMI długościami mierzonych przez nas wkładek oferowanych butów.
B. PROSIMY WYBEIRAĆ rozmiar, którego wkładka jest od 2mm do 5mm dłuższa od rzeczywistej długości bosej stopy.
C. Jak mierzyć stopę?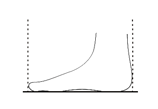 Pomiar należy wykonać od początku pięty do końca palców - najlepiej w pozycji stojącej.
Piętę przysuwamy do ściany lub np. mebla, a do palców przesuwamy prostopadle do linii stopy, np. sztywną książkę.
Mierzymy odległość pomiędzy ścianą a książką.