Buty szosowe renomowanej włoskiej marki Northwave. Wierzchnia część wykonana z Ultralekkiego PU z Meshem w połączeniu z konstrukcją wielowarstwową i systemem wentylacji AirFlow gwarantuje niespotykany dotąd komfort jazdy, a zarazem wytrzymałość i jakość na najwyższym poziomie. Całość została doskonale uzupełniona podeszwą NRG Air wzbogaconą karbonem dla jeszcze większej sztywności i wkładką Performance Advanced gwarantującą wygodę nawet podczas całodziennych wyścigów. Sonic zapinany jest przez 3 asymetryczne paski, co pozwala na szybkie założenie i zdjęcie buta, jak również gwarantuje idealne ułożenie stopy. Model ten cechuje się niską wagą zaledwie 260g, a wszystko to dzięki zastosowanym technologiom i materiałom z najwyższej półki.
Cena katalogowa: 420PLN
Sole: Nrg Air Carbon Reinforced

Upper: Pu With Comfort Airmesh

Upper Contruction: Multilayer Thermowelded + Airflow System

Closing System: 3 Asymmetrical Straps

Heel: Integrated Heel System

Tech: Spd Pedals Compatible

Peso: 270gr
NRG Air carbon reinforced sole: NRG Air provides increased stiffness thanks to the new blend of nylon reinforced with fiberglass and enriched with carbon. As with the whole road soles collection, it features the AirFlow ventilation system. Vents favour an optimal air flow in and out. Compatible with SPD pedals.

AirFlow System: it´s the Northwave ventilation system with large vents that lets your feet breathe: the lower vent channels air inside the sole, while the side vents guarantee a supply of fresh air.

Multilayer Thermowelded construction: New Multilayer construction: a light microfiber is coupled with large thermowelded mesh vent inserts at the same thickness of a traditional monolayer. The result: better comfort and reduced weight.

Asymmetrical straps: The asymmetrical construction is another innovation of the collection. The central strap is moved to the center so as to follow the anatomy of the foot and reduce the pressure on the side area, because its particularly sensitive. The straps have been lightened by all superfluous elements, presenting thinner thicknesses and discharged central areas, thereby maintaining maximum grip.

Integrated Heel System: The new unibody construction of the uppers allowed to integrate an efficient heel retention system inside the structure, without the need of external elements. Same efficiency, reduced weigh
Mocowanie bloków

:

LOOK

,

SPD SL

,

SPD

Type

:

MALE

Use

:

ROAD

Podeszwa

:

CARBON

FASTENING SYSTEM

:

VELCRO



| Size | US | CM (wg producenta) | Rzeczywista długość wkładki mm |
| --- | --- | --- | --- |
| 42 | 9 1/2 | 27.3 | 271 |
UWAGA! Aby uniknąć niepotrzebnych wymian lub zwrotów zakupionego obuwia - BARDZO PROSIMY przy doborze zamawianego rozmiaru, trzymać się poniższych zasad:
A. podane w ostatniej kolumnie długości wkładek w mm, są RZECZYWISTYMI, CAŁKOWITYMI długościami mierzonych przez nas wkładek oferowanych butów.
B. PROSIMY WYBEIRAĆ rozmiar, którego wkładka jest od 2mm do 5mm dłuższa od rzeczywistej długości bosej stopy.
C. Jak mierzyć stopę?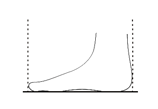 Pomiar należy wykonać od początku pięty do końca palców - najlepiej w pozycji stojącej.
Piętę przysuwamy do ściany lub np. mebla, a do palców przesuwamy prostopadle do linii stopy, np. sztywną książkę.
Mierzymy odległość pomiędzy ścianą a książką.