274g!
Cena katalogowa: 1100PLN
Morph Carbon 12 AAS sole with full-carbon insert in the pedal area with a stiffness index of 12.0. The exclusive Anatomical Arch Support® made of TPU, allows the shoe to perfectly shape on the bow arch, making it the ideal sole for any type of foot
NW Speedplay adapter compatible for the lowest stack height between foot and pedal
Made with Xframe® patented construction and ultralight next generation materials that are only 0.5 mm thick, the upper transfers every watt of power and provides the snuggest, even fit with no pressure points
SLW2 dial, the only one with step-by-step and full release in a single button
Integrated heel system containing directional fibre prevents any slipping
Performance Regular footbed provides greater support
Morph Carbon 12AAS Sole: Power straight to the pedals and arch support for any shape of foot. The full-carbon insert in the pedal area delivers an excellent response on the pedals without impacting the low-weight design or first-rate ventilation. The Morph Carbon 12 AAS sole features the exclusive Anatomical Arch Support: a TPU arch support integrated between the sole and the upper that enables the shoe to adapt to the arch while providing the best possible support when riding. TPU offers a reduced degree of flexion so is an ideal material for long-distance riding.

S.L.W. 2: Maximum precision and usability. The side button offers dual functionality: press the button for micrometric release, or lift the button to instantly undo the shoe completely. The ergonomic shape of the ratchet base matches the shape of the foot for added comfort, while the size and minimized weight plus the outer soft-touch covering make it easier and better to grip. It features wires that harness the best technologies used in sailing, and can be easily replaced using the spare parts kit.
Type

:

MALE

FASTENING SYSTEM

:

BOA

Mocowanie bloków

:

SPD SL

,

LOOK

Podeszwa

:

CARBON

Fason

:

NISKIE

Use

:

ROAD



| Size | US | CM (wg producenta) | Rzeczywista długość wkładki (mm) |
| --- | --- | --- | --- |
| 42 | 9 1/2 | 27.3 | 274 |
UWAGA! Aby uniknąć niepotrzebnych wymian lub zwrotów zakupionego obuwia - BARDZO PROSIMY przy doborze zamawianego rozmiaru, trzymać się poniższych zasad:
A. podane w ostatniej kolumnie długości wkładek w mm, są RZECZYWISTYMI, CAŁKOWITYMI długościami mierzonych przez nas wkładek oferowanych butów.
B. PROSIMY WYBEIRAĆ rozmiar, którego wkładka jest od 2mm do 5mm dłuższa od rzeczywistej długości bosej stopy.
C. Jak mierzyć stopę?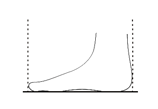 Pomiar należy wykonać od początku pięty do końca palców - najlepiej w pozycji stojącej.
Piętę przysuwamy do ściany lub np. mebla, a do palców przesuwamy prostopadle do linii stopy, np. sztywną książkę.
Mierzymy odległość pomiędzy ścianą a książką.