Buty MTB renomowanej marki Northwave. Wykonane z lekkiego PU w połączeniu z wielowarstwową konstrukcją i systemem wentylacji AirFlow gwarantują utrzymywanie optymalnej temperatury stóp, oraz wytrzymałość. Podeszwa Jaws wzmacniana włóknem węglowym pomaga w przenoszeniu siły bezpośrednio do kół bez utraty energii, a wszystko to dzięki zwiększonej sztywności. Zapięcie innowacyjnym systemem SRS uzupełnionym o asymetryczne paski idealnie trzymają stopę we właściwej pozycji w każdej sytuacji. Dzięki zastosowanym technologiom i materiałom, Scorpius SRS ważą jedynie 373g
Cena katalogowa: 549PLN
Wierzch: Ultralight PU +AirFlow System + konstrukcja wielowarstwowa
Zapięcie: SRS + asymetryczne paski
Podeszwa: Jaws Carbon Reinforced
Waga:373g
Wkładka:Performance Advanced
Technologie:
Jaws Carbon Reinforced Sole. AirFlow System. SRS. Multilayer Thermowelded Construction. Asymetryczne paski. Performance Advanced.
Jaws Carbon Reinforced Sole:
Podeszwa z termoplastycznego materiału wzbogacona o proszek z włókna węglowego i pokryta gumą sprawia, że buty te są lekkie i zapewniają maksymalną przyczepność nawet na zjazdach i pochyłym terenie.
AirFlow System:
Jest to system wentylacji z dużymi otworami, które pozwalają na lepsze oddychanie stopy podczas jazdy.
S.R.S.:
Slim Ratchet System to nowa klamra mikrometryczna Northwave. Maksymalna precyzja zamykania, zminimalizowane wymiary i waga. Mechanizm dopasowuje się do anatomii i kształtu stopy, aby zapewnić najbardziej komfortowe dopasowanie i trzymanie stopy nawet podczas jazdy. Wykonane z kutego aluminium, wysokiej jakości i łatwe do wymiany.
Multilayer Thermowelded Construction:
Nowa konstrukcja wielowarstwowa: Lekka mikrofibra połączona jest z insertami wentylacyjnymi z dużej termoprzewodzącej siateczki zachowując grubość pojedynczej warstwy. Dzięki zastosowanym technologiom otrzymaliśmy zwiększony komfort i zredukowaną wagę.
Asymetryczne paski:
Paki te to kolejna innowacja w kolekcji. Centralny pasek jest przesunięty do środka tak, by dopasować but do anatomii stopy, zmniejszyć nacisk boczny, utrzymując w ten sposób maksymalną przyczepność. Paski zostały podkreślone elementami fluorescyjnymi.
Performance Advanced Footbed:
Ergonomiczny design: ponieważ potrzebujesz idealnej pozycji stopy podczas pedałowania oraz komfortu.
Type

:

MALE

FASTENING SYSTEM

:

VELCRO

,

SBS

Mocowanie bloków

:

SPD

Podeszwa

:

CARBON

Fason

:

NISKIE

Use

:

MTB



| Size | US | CM (wg producenta) | Rzeczywista długość wkładki (mm) |
| --- | --- | --- | --- |
| 42 | 9.5 | 27.3 | 270 |
UWAGA! Aby uniknąć niepotrzebnych wymian lub zwrotów zakupionego obuwia - BARDZO PROSIMY przy doborze zamawianego rozmiaru, trzymać się poniższych zasad:
A. podane w ostatniej kolumnie długości wkładek w mm, są RZECZYWISTYMI, CAŁKOWITYMI długościami mierzonych przez nas wkładek oferowanych butów.
B. PROSIMY WYBEIRAĆ rozmiar, którego wkładka jest od 2mm do 5mm dłuższa od rzeczywistej długości bosej stopy.
C. Jak mierzyć stopę?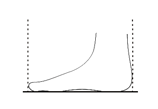 Pomiar należy wykonać od początku pięty do końca palców - najlepiej w pozycji stojącej.
Piętę przysuwamy do ściany lub np. mebla, a do palców przesuwamy prostopadle do linii stopy, np. sztywną książkę.
Mierzymy odległość pomiędzy ścianą a książką.