Komfort dopasowanie to kluczowe cechy, które sprawiają, że buty SCOTT MTB Comp Lady Boa® to kobiecy model, który jest przeznaczony dla entuzjastek kolarstwa górskiego i amatorek wyścigów. Adaptacyjna, ściśle przylegająca cholewka ma system Boa® Fit L6 w połączeniu z dolnym anatomicznym paskiem dopasowującym się do kształtu stopy rowerzystki. Wkładka ErgoLogic zapewnia doskonałe dopasowanie, a podeszwa 6 o sztywności ze zwiększonym zakresem regulacji bloków i podeszwą wyścigową z gumy Sticki zapewnia fantastyczną przyczepność i efektywnie przenosi energię na pedały, zachowując jednocześnie komfort przez cały dzień.
Cena katalogowa: 560PLN
Materiał:
Syntetyczny Poliuretan, 3D Nylon Airmesh
Podeszwa:
Sticki Rubber, włókno szklane, Indeks sztywności 6
Zapięcie:
System zapięcia Boa L6 i anatomiczny pasek
Waga:
Cechy:
Wyciągana wkładka ErgoLogic
Type

:

WOMEN

FASTENING SYSTEM

:

VELCRO

,

BOA

Mocowanie bloków

:

SPD

Fason

:

NISKIE

Use

:

MTB



| Size | US | Rzeczywista długość wkładki w mm |
| --- | --- | --- |
| 38 | 6,5 | 245 |
| 39 | 7,5 | 254 |
UWAGA! Aby uniknąć niepotrzebnych wymian lub zwrotów zakupionego obuwia - BARDZO PROSIMY przy doborze zamawianego rozmiaru, trzymać się poniższych zasad:
A. podane w ostatniej kolumnie długości wkładek w mm, są RZECZYWISTYMI, CAŁKOWITYMI długościami mierzonych przez nas wkładek oferowanych butów.
B. PROSIMY WYBEIRAĆ rozmiar, którego wkładka jest od 2mm do 5mm dłuższa od rzeczywistej długości bosej stopy.
C. Jak mierzyć stopę?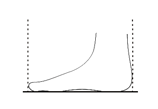 Pomiar należy wykonać od początku pięty do końca palców - najlepiej w pozycji stojącej.
Piętę przysuwamy do ściany lub np. mebla, a do palców przesuwamy prostopadle do linii stopy, np. sztywną książkę.
Mierzymy odległość pomiędzy ścianą a książką.