Using classic races, the flextime that is freedom softly to all directions is realized. I put BOA system on an ankle part, and an ankle rotation is easily tightened quickly.
The mountain freeride boots of adult enabling surf-style to carry away the whole mountain by free movement. It is available for one-touch crampons. The vibram sole which a sole did well is very comfortable to walk in and is suitable for free riding.
LIST PRICE: 350EUR
style: Backcountry
liner: PF
flex: 7.0
D-TEX MEMBRANE
D-TEX is material superior in waterproofness. He/she keeps your step warm with dry.

POWER STRAP
The hold of more solid boots is provided by closing this power strap.

L3
The hybrid racing system which tightens only an ankle part in SCL, and can tighten the whole with a string. I become able to be hurt for tightening just as wanted.

Boa Fit System
It is the racing system which can easily tighten boots just to turn a dial.

BACK BONE
I equip a high background part of boots with durable material and give flexible tension.

BACK WELT
Thanks to the plastic back wall which equipped a heel with a groove, curan of the semiautomatic-like correspondence can lock を pop.

ROCK GUARD
Because I can protect it from a rock and ice by wrapping up a tiptoe and the boots side in rubber, the durability is very high.

VIBRAM(R)
As the new vibram sole was very light and was thin, riding performance just improved the easy hike in the upon the snow markedly.
Type

:

MALE

,

WOMEN

Flex

:

MEDIUM .

Membrana

:

D-TEX

Podeszwa

:

VIBRAM

Wiązanie buta

:

BOA

,

KLASYCZNE

,

RZEP



| Size | CM | UK | US (damska) | US (męska) |
| --- | --- | --- | --- | --- |
| 43.5 | 28.5 | 9.5 | 11 | 10.5 |
UWAGA! Aby uniknąć niepotrzebnych wymian lub zwrotów zakupionego obuwia - BARDZO PROSIMY przy doborze zamawianego rozmiaru, trzymać się poniższych zasad:
A. podane w ostatniej kolumnie długości wkładek w mm, są RZECZYWISTYMI, CAŁKOWITYMI długościami mierzonych przez nas wkładek oferowanych butów.
B. PROSIMY WYBEIRAĆ rozmiar, którego wkładka jest od 2mm do 5mm dłuższa od rzeczywistej długości bosej stopy.
C. Jak mierzyć stopę?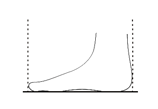 Pomiar należy wykonać od początku pięty do końca palców - najlepiej w pozycji stojącej.
Piętę przysuwamy do ściany lub np. mebla, a do palców przesuwamy prostopadle do linii stopy, np. sztywną książkę.
Mierzymy odległość pomiędzy ścianą a książką.