The anniversary model for the 60th anniversary of SIDI: The Sixty opens a new chapter in lightness and technology. Weighing just over 500 grams per pair, the Sixty is the lightest shoe ever made by the Italian manufacturer.
Cena katalogowa: 1620PLN
Road Vent Carbon Sole
Men's Regular Width
Comfort Fit Insole
Tecno 4 Push System
Replacable Heel Pad
High Security Velcro
VENT CARBON Sole
Lightweight and super stiff full carbon sole for maximum power transmission. With integrated, closable air inlet and ventilation channel for ideal ventilation of the foot even at high temperatures. Minimal flex in the forefoot area to relieve the tendons and reliably counteract circulatory disorders. With exchangeable plastic heel and alignment scale for optimum positioning of the pedal plates. Compatible with all common road bike pedal systems.
COMFORT FIT INSOLE
Lightly padded insole made of ergonomically shaped foam with memory effect.
TECNO 4 PUSH SYSTEM
A further development of the Tecno 3 Push System: The centrally positioned closure can be opened without a connection to the tongue and thus offers an even more constant pressure distribution on the back of the foot.
REPLACEABLE HEEL PAD
All ROAD shoes from SIDI feature a replaceable plastic heel.
HIGH SECURITY VELCRO
Velcro fastener with integrated interlocking made from plastic hook. The Velcro remains in the correct position without slipping.
The SIXTY is much more than just a shoe. You can tell right away, at first glance. In fact, this model has become a symbolic shoe to celebrate 60 years of Sidi history. Dino Signori and his company will turn this important milestone in 2020.
The history of the company has been made up of hard work, passion, sacrifices and savvy intuition. All of these elements have led Sidi on a quest for continuous development and innovation in the concept of cycling shoes. More importantly, these values have helped the company achieve fantastic victories in the most prestigious races in the World and affirm itself as a leader and point of reference in this sector.
Sixty years of success is not only a remarkable milestone for Sidi; it is also a new starting point from which the company continues expanding and improving. Their goal is to create products with the highest ever quality standards. The new SIXTY model has already been tested successfully in races by some of the champions from the Sidi squad. This shoe is the perfect result of extensive research and constant progress applied to making shoes that are at once light, resistant, comfortable and highly performing.
The SIXTY shoe was meant to be a tribute to these 60 glorious years of history, so focus was placed on structure, features and shapes, which synthesize Sidi's evolving journey and offer all the finest in technology and materials, perfectly matched to a modern and appealing design.
Highlights featured on the new SIXTY include the latest in Sidi technology applied to the closure mechanism, which was inspired by other top-shelf models like the Shot and the Wire 2 Carbon. This version is even lighter and more advanced. The carbon sole is light and resistant, so as to transmit full power to the pedal stroke. Sidi has trademarked their system for maximizing air flow to the foot. Not to mention the simple and minimal design that makes this shoe even more aerodynamic, modern and elegant.
One of the first riders to get a hands-on look at the new SIXTY was Egan Bernal. During his recent visit to the company, Dino Signori gave him a custom made, gold-coloured special edition pair to celebrate his victory in the Tour de France, which was the 15th win in this race for Sidi. Bernal was the first Colombian in history to triumph in the Grande Boucle, at the tender age of 22. The Colombian enjoyed a truly "golden" season; in addition to the Tour, he also garnered successes in the Paris-Nice, the Tour de Suisse and the Gran Piemonte, as well as podiums in the Lombardia, the Volta Catalunya and the Giro di Toscana. Sidi and Egan Bernal are looking forward to new, exciting challenges in 2020.
Type

:

MALE

,

WOMEN

Mocowanie bloków

:

SPD SL

,

LOOK

Podeszwa

:

CARBON

FASTENING SYSTEM

:

BOA

Use

:

ROAD



| Size | US | rzeczywista dlugość wkładki w mm |
| --- | --- | --- |
| 42 | 8 | 265 |
UWAGA! Aby uniknąć niepotrzebnych wymian lub zwrotów zakupionego obuwia - BARDZO PROSIMY przy doborze zamawianego rozmiaru, trzymać się poniższych zasad:
A. podane w ostatniej kolumnie długości wkładek w mm, są RZECZYWISTYMI, CAŁKOWITYMI długościami mierzonych przez nas wkładek oferowanych butów.
B. PROSIMY WYBEIRAĆ rozmiar, którego wkładka jest od 2mm do 5mm dłuższa od rzeczywistej długości bosej stopy.
C. Jak mierzyć stopę?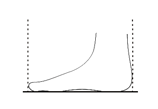 Pomiar należy wykonać od początku pięty do końca palców - najlepiej w pozycji stojącej.
Piętę przysuwamy do ściany lub np. mebla, a do palców przesuwamy prostopadle do linii stopy, np. sztywną książkę.
Mierzymy odległość pomiędzy ścianą a książką.
!!!UWAGA W tych BUTACH SIDI wybrany rozmiar butów powinien mieć rzeczywistą długość wkładki podobną do rzeczywistej długości naszej stopy.