No more downloads or bulky processes
Now you can record your sporty moments or share them in the social web with only one accessory. Place your smartphone into the Qmountz and you are ready for an action sport movie, and extreme capture, and lots of great pictures.
This revolutionary product comes with a wide variety of mountings to be placed on bikes, cars, skates, helmets, surfboards, snowboards, and chest or anywhere you want. Optional it also includes a wide angle lens 180 degrees to extend the range of capture.
Mount it anywhere you want!
(We say "mount it" because we mean it!)
Want to use it on your skate, bike, board, car, chest, jump from an airplane, kite surf, or anywhere? No problem!!! With this wide range of accessories (some included in the package: bike, helmet-board, and chest).
You can place your Qmountz literally anywhere!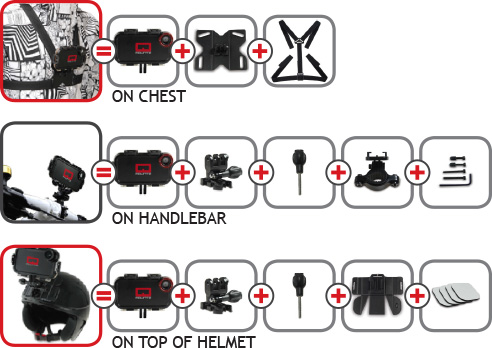 Your smartphone - your sport camera
Qmountz is a revolutionary accessory case that turns your smartphone iPhone (4/4S/5) or Samsung Galaxy S3 into an extreme sports camera. QMOUNTZ  helps the smartphones to be protected from any extreme environments including under the water up to 30 feet. QMOUNTZ can be placed in multiple surfaces and devices.
QMOUNTZ FISHEYE LENS*

Provides crystal-clear photo and video quality. Now you can shoot stunning 720p or 1080p HD videos with 180º fisheye lens anywhere you go.
* option
Examples of applications QMOUNTZ