The range of products available in other countries is determined by the official Sidi distributor. Please contact the distributor in your country directly for further information.
Cena katalogowa: 1150PLN
UPPER: MICROFIBRE PERFORMA TECH PRO and NYLON MESH
SOLE: VENT CARBON SOLE
Soft Instep 2:
The SOFT INSTEP CLOSURE SYSTEM is a wide, anatomically curved strap combined with a soft, thermo-formed EVA pad that distributes pressure evenly over the instep area. The SOFT INSTEP CLOSURE SYSTEM is adjustable from both sides, to perfectly center the EVA pad over a high or low instep. The system eliminates the need for the High Instep Extender. The SOFT INSTEP CLOSURE SYSTEM is replaceable.

Tecno-II system:
TECNO-II BUCKLE uses monofilament line and a fine-tooth ratchet for smooth adjustment and even pressure distribution Allows frontal micrometric closure and adapts the upper of the shoe to the shape of the foot for a customised fit. The TECNO II SYSTEM can be adjusted while riding.

Caliper buckle:
The micrometric closure called "CALIPER BUCKLE" is adjustable by lifting the central buckle. In order to completely open, lift together both side buckles, or push the center button to slightly loosen one tooth at the time. The system is also adjustable during a race.

High Security Velcro:
HIGH SECURITY VELCRO straps with integrated locking polymer teeth, that engage onto each other when the strap is closed. This feature makes the closure more secure and the strap becomes unmoveable.

Adjustable heel retention device:
The ADJUSTABLE HEEL RETENTION DEVICE reinforces the top of the heel cup and improves the fit by closing the back of the shoe securely around the rider's heel. The heel retention device tightens the top of the heel cup so that the heel doesn't slide out during steep climbs or sprints. Each side of the heel can be adjusted independently, for a perfect fit. For a custom adjustment turn the screw towards the + sign to tighten the heel retention device and towards the – sign to open it. Light weight, easy to use, and replaceable.

Sidi heel cup:
The reinforced heel keeps the foot in a optimal position and avoids the shoe being deformed by extreme performance or prolonged pressure.

Replaceable heel pad:
For walkability, Sidi cycling shoes include a replaceable polyurethane heel pad.

Vent Carbon Sole:
The VENT CARBON SOLE features a light and replaceable heelpad to improve walkability in polyurethane and a replaceable integrated toe pad/vent cover. The key benefits of the VENT CARBON SOLE are not only superior power transfer, because of its light weight and stiffness, but also warm weather comfort. The VENT CARBON SOLE is designed with an integrated vent and air channels for heat dissipation and air flow. The vent can be opened or closed for 4-season comfort. The VENT CARBON SOLE is handmade exclusively of carbon fiber in a weave pattern oriented at opposing angles that maximize stiffness while allowing for a small degree of controlled flex in the toe area. This carefully designed flex biomechanically relieves stress on the plantar tendon and helps promote circulation. The VENT CARBON SOLE features a standard 3-hole drilling pattern, printed 10 mm lateral and fore/aft cleat alignment scale as well as the Look Memory Eyelet® for easy cleat alignment and replacement. For triathlon, the vent also serves as a water drain, dramatically improving foot comfort after a wet transition.
Type

:

MALE

,

WOMEN

Mocowanie bloków

:

SPD SL

,

LOOK

Podeszwa

:

CARBON

FASTENING SYSTEM

:

BOA

Use

:

ROAD



| Size | US | rzeczywista długość wkładki w mm |
| --- | --- | --- |
| 42 | 8 | 266 |
| 48 | 13 | 301 |
UWAGA! Aby uniknąć niepotrzebnych wymian lub zwrotów zakupionego obuwia - BARDZO PROSIMY przy doborze zamawianego rozmiaru, trzymać się poniższych zasad:
A. podane w ostatniej kolumnie długości wkładek w mm, są RZECZYWISTYMI, CAŁKOWITYMI długościami mierzonych przez nas wkładek oferowanych butów.
B. UWAGA ! W butach SIDI wybrany rozmiar butów powinien mieć rzeczywistą długość wkładki ok. 2-5mm mniejszą niż rzeczywista długość naszej stopy.
C. Jak mierzyć stopę?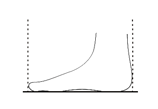 Pomiar należy wykonać od początku pięty do końca palców - najlepiej w pozycji stojącej.
Piętę przysuwamy do ściany lub np. mebla, a do palców przesuwamy prostopadle do linii stopy, np. sztywną książkę.
Mierzymy odległość pomiędzy ścianą a książką.