The revolution of offroad shoes has finally arrived! The award-winning Afton Keegan MTB Shoe has been designed to recreate the way we think about the trail, with performance and comfort enhanced whether you're shredding hard or casually walking.
Gone are the days of downhill discomfort. Afton have worked tirelessly to eliminate the pain inspired by using the pedals far too often on long descents. Introducing their own proprietary mono-directional shank which delivers added stiffness to your pedalling, vibration is reduced while enhanced power transfers get you in and out of berms quicker than you can say roost. Should you wish to plan out the best path for your session, the Keegan shoes, winner of the 2018 Design & Innovation Award, shine when leaving the bike behind and are perfect for walking in and climbing up ledges.
Cena katalogowa: 460PLN
RECENZJA: https://tyresandsoles.com/2019/01/27/afton-vectal-keegan-mtb-shoe-review/
Unrivalled Traction
Thanks to its proprietary Intact® rubber, the Keegan MTB shoe boasts a Shore A of 60 and is certain to provide excess grip and durability from the first pedal until the last. With plenty of reinforcement, hard landings and impacts promise not to damage your feet, while the reinforced toe box with additional protective PU taping protects from rough terrain and rocks.
Breathability and Comfort
Delivering an extremely comfortable fit suitable for all levels of intensity, the Keegan shoes are designed for performance and have a relaxed fitting to offer a truly snug fit. Highly breathable, lateral, medial and toe venting maximises airflow around the foot while air mesh keeps out debris. To reduce odour, anti-microbial moulded foam insoles take control.
Features:
Intact® rubber boasting a Shore A of 60
Outsole constructed specifically to interface with a flat pedal yet provide traction when climbing and descending hills off the bike
Mono-directional interior shank
Reinforced toe box with additional protective PU taping
2018 Design & Innovation Award
Venting in lateral, medial, and toe areas
Anti-microbial moulded foam insole
Durable external materials
O marce AFTON SHOES (San Diego, CA | USA):
Afton Shoes is a manufacturer of MTB bike shoes that combine functional technologies and a design suitable for everyday use. The focus is on versatile use in biking as well as in everyday life and leisure time.
Afton Shoes is one of the youngest and most progressive riding footwear brands in the mountain bike scene. You will see top level riders like previous Crankworx King Adrien Loron and World Cup rippers Neko Mulally and Reece Wilson riding in Afton shoes. Afton is known for their modern urban styling mixed with technical features that combined are aimed to change the landscape of cycling footwear. Our guy Max Morgan has been riding in both the Afton Vectal clipless shoes and the Afton Keegan flat pedal shoes all year and so we thought it was a no brainer to get his thoughts on how the Keegan flat pedal shoes have performed.
Mocowanie bloków

:

BRAK

Podeszwa

:

INTACT

Use

:

ENDURO

,

DH

,

MTB

,

BMX

,

DIRT

Type

:

WOMEN

,

MALE



| Size | US | rzeczywista długość wkładki w mm |
| --- | --- | --- |
| 43 | 10 | 281 |
| 43.5 | 10,5 | 285 |
UWAGA! Aby uniknąć niepotrzebnych wymian lub zwrotów zakupionego obuwia - BARDZO PROSIMY przy doborze zamawianego rozmiaru, trzymać się poniższych zasad:
A. podane w ostatniej kolumnie długości wkładek w mm, są RZECZYWISTYMI, CAŁKOWITYMI długościami mierzonych przez nas wkładek oferowanych butów.
B. PROSIMY WYBEIRAĆ rozmiar, którego wkładka jest od 2mm do 5mm dłuższa od rzeczywistej długości bosej stopy.
C. Jak mierzyć stopę?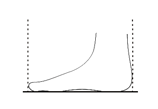 Pomiar należy wykonać od początku pięty do końca palców - najlepiej w pozycji stojącej.
Piętę przysuwamy do ściany lub np. mebla, a do palców przesuwamy prostopadle do linii stopy, np. sztywną książkę.
Mierzymy odległość pomiędzy ścianą a książką.