SH-M200 to nowy model butów Shimano ukierunkowanych na trail i enduro. Połączenie lekkości i wydajności pedałowania buta XC z wytrzymałością i ochroną jakiej potrzeba na szlakach enduro.
All conditions Trail/Enduro shoe. Faster with more control. Combining the light weight and pedaling effectiveness of a XC shoe with the durability, grip, and armor aggressive trail riders require
Cena katalogowa: 680PLN
wierzch:
sztuczna skóra z niskoprofilowym wzmocnieniem
asymetryczna konstrukcja kołnierza z wyższą częścią wewnętrzną ochraniającą kostkę
otwory wentylacyjne noska
system szybkiego sznurowania
niskoprofilowa sprzączka
wkładka:
o podwójnej gęstości i dodatkowej amortyzacji zapewnia amortyzację wstrząsów
forma:
Forma Volume + dla łatwego dopasowania noska
podeszwa:
skrętna wewnętrzna część podeszwy "Torbal"
wzmacniana włóknem szklanym wewnętrzna cześć podeszwy dla zwiększenia sztywności
większy zakres  regulacji bloków
gumowa podeszwa zewnętrzna o zmiennej gęstości
sztywne gumowe boli
guma o wysokiej przyczepności na krawędziach zewnętrznych
gumowa pięta
sztywność 8
Type

:

MALE

FASTENING SYSTEM

:

VELCRO

,

SBS

Fason

:

NISKIE



| Size | CM | US | Rzeczywista długość wkładki mm |
| --- | --- | --- | --- |
| 39 | 24,5 | 5,8 | 248 |
UWAGA! Aby uniknąć niepotrzebnych wymian lub zwrotów zakupionego obuwia - BARDZO PROSIMY przy doborze zamawianego rozmiaru, trzymać się poniższych zasad:
A. podane w ostatniej kolumnie długości wkładek w mm, są RZECZYWISTYMI, CAŁKOWITYMI długościami mierzonych przez nas wkładek oferowanych butów.
B. PROSIMY WYBEIRAĆ rozmiar, którego wkładka jest od 2mm do 5mm dłuższa od rzeczywistej długości bosej stopy.
C. Jak mierzyć stopę?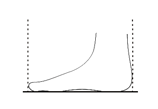 Pomiar należy wykonać od początku pięty do końca palców - najlepiej w pozycji stojącej.
Piętę przysuwamy do ściany lub np. mebla, a do palców przesuwamy prostopadle do linii stopy, np. sztywną książkę.
Mierzymy odległość pomiędzy ścianą a książką.