CX/TX Competition Last – With a profile specifically designed for very high-cadence riding & higher pressure, our Competition last features a more curved profile than the Sport last. The main differences include increased toe pitch & heel lift, a tighter heel & a slightly wider ball girth to allow the foot to expand under high pedaling pressures.
Cena katalogowa: 860PLN
| | |
| --- | --- |
| OUTSOLE | Lake Competition 100% Carbon Fiber Sole. Available in 3 hole cleat pattern  |
| UPPER | Durable Microfiber upper with NuFOAM™ & Trek-Dry breathable, moisture wicking & antimicrobial lining. Our unique lining works in a way that keeps your feet feeling cool and dry. |
| CLOSURE | |
NuFoamTM offers extreme breathability,light weight performance, moisture management and anti-microbial properties all in one package. The perfect technical material for the world's most technical footwear.
TeKtile – Our collection of Synthetic materials have been selected to meet the high standard that we have set for our shoes. TeKtile material is used precisely where it can offer great strength, visual appeal and a specific function.
O marce LAKE:
Amerykańska fmarka LAKE istnieje na rynku od 1982 roku, od samego początku specjalizuje się w produkcji butów rowerowych. Jej produkty wyróżnia unikalny design i zastosowanie opatentowanych nowoczesnych rozwiązan nie spotykanych wśród inny producentów butów. LAKE jest marką która produkuje buty tylko klasy średniej i wyższej. . Możemy śmiało ja porównać do takich marek jak SIDI, GAERNE.
LAKE o sobie:
Istnieje wiele firm masowo produkujących buty kolarskie. Ale dopóki oni będą prowadzić produkcję masową, my nadal będziemy robić buty w ten sam sposób jak przez ostatnich 25 lat, używając FSD - funkcji szczegółowego projektu oraz zaawansowanych technologii dla stworzenia butów dla wszystkich warunków i stylów jazdy. Lake wie, że obuwie jakiego potrzebują rowerzyści jest uzależnione od typu jazdy jaki uprawiasz, jaki poziom trudności jazdy sobie narzucasz i środowiska w jakim jeździsz. Kolarstwo szosowe, kolarstwo górskie, triathlon, zimowa jazda na rowerze, przejażdżki, czy droga do sklepu na rogu ulicy. Nie ma butów, które pasują do wszystkich typów jazdy, więc robimy buty dostosowane do indywidualnych użytkowników oraz ich indywidualnej jazdy. W tym roku, podobnie jak każdy innym, wykorzystaliśmy najbardziej zaawansowane materiały z całego świata do stworzenia linii obuwia tylko tak wyjątkowe, jak są wyjątkowi rowerzyści, którzy w nich jeżdżą.
Type

:

MALE

FASTENING SYSTEM

:

VELCRO

Mocowanie bloków

:

SPD SL

,

LOOK

Podeszwa

:

CARBON

Fason

:

NISKIE

Use

:

TRIATHLON



| Size | Rzeczywista długość wkładki (mm) |
| --- | --- |
| 37 | 235 |
| 41 | 260 |
| 42 | 269 |
| 43 | 276 |
| 50 | 322 |
UWAGA! Aby uniknąć niepotrzebnych wymian lub zwrotów zakupionego obuwia - BARDZO PROSIMY przy doborze zamawianego rozmiaru, trzymać się poniższych zasad:
A. podane w ostatniej kolumnie długości wkładek w mm, są RZECZYWISTYMI, CAŁKOWITYMI długościami mierzonych przez nas wkładek oferowanych butów.
B. PROSIMY WYBEIRAĆ rozmiar, którego wkładka jest od 2mm do 5mm dłuższa od rzeczywistej długości bosej stopy.
C. Jak mierzyć stopę?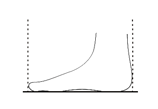 Pomiar należy wykonać od początku pięty do końca palców - najlepiej w pozycji stojącej.
Piętę przysuwamy do ściany lub np. mebla, a do palców przesuwamy prostopadle do linii stopy, np. sztywną książkę.
Mierzymy odległość pomiędzy ścianą a książką.