The Northwave mountainbike shoe for men is a light but sturdy shoe , provided with a profile so you also have grip when you have to get off your cycle. The Speedlight 3D Carbon CX sole with steel spikes and extra rubber is extra sturdy. Because of the double Velcro closure and the SRS ratchet closure the shoe connects well. The Performance Pro insole is provided with a lot of cushioning and is ergonomically formed. The Integrated Heel System offers a lot of stability while cycling. The neoprene sock is waterproof and is ideal during muddy circumstances.

Cena katalogowa: 820PLN
Northwave mountainbike cycling shoe for men
Speedlight 3D Carbon CX sole
Double Velcro closure with SRS ratchet system
Ergonomically formed Performance Pro footbed
Sturdy heelcap
Colour: black - yellow
Biomap
Your energy is precious, never waste it. That's why our shoes are designed with BioMap technology. Northwave soles, uppers and all their components are anatomically compatible with every cyclist's feet and are designed to keep the foot in the right position while pedaling, transmitting power directly to the pedals without wasting any energy.
Speedlight 3D CX Sole
Specifically modified for Cyclocross use. Guarantee of great performance and lightness, is made of fiberglass reinforced with nylon, co-injected with an outer shell in TPU. The sole features natural rubber cleats with the addition of a specific insert, in natural rubber too, along the medial zone for a firm and secure grip even on the most slippery grounds. Inside the package it is also available an additional kit of front studs made of iron, even more suitable in muddy terrain and in case of rain.
Neoprene sock and water-repellent treatment
Mud and rain are certainly two elements to take into account when dealing with Cyclocross circuits and for this reason Northwave has provided some specific solutions starting from the upper whose lower air intakes are coated with a special material that prevents water absorption. Besides this the shoe features an inner sock made of Neoprene integrated to the upper, which guarantees at the same time a good water resistance, breathability and moisture management. Moreover the cleat on the sole plate is treated with a specific EVA waterproof layer.
TPU thermowelded extra protections
The thermowelded TPU protections on the upper, have been further increased compared to the Mtb version, for even better protection of the foot.
Asymmetrical straps
The asymmetrical construction is another innovation of the collection. The central strap is moved to the center so as to follow the anatomy of the foot and reduce the pressure on the side area, because particularly sensitive. The straps have been lightened by all superfluous elements, presenting thinner thicknesses and discharged central areas, thereby maintaining maximum grip.
Integrated Heel System
The new unibody construction of the uppers allowed to integrate an efficient heel retention system inside the structure, without the need of external elements. Same efficiency, reduced weight.
Performance Pro Footbed
EVA and microfiber offer lightness, sole support and the perfect degree of stiffness to transmit all your power to the pedals.
Type

:

MALE

FASTENING SYSTEM

:

VELCRO

Mocowanie bloków

:

SPD

Podeszwa

:

CARBON

Fason

:

ŚREDNIE

Use

:

MTB

,

przełajowe



| Size | Rzeczywista długość wkładki w mm |
| --- | --- |
| 42 | 270 |
UWAGA! Aby uniknąć niepotrzebnych wymian lub zwrotów zakupionego obuwia - BARDZO PROSIMY przy doborze zamawianego rozmiaru, trzymać się poniższych zasad:
A. podane w ostatniej kolumnie długości wkładek w mm, są RZECZYWISTYMI, CAŁKOWITYMI długościami mierzonych przez nas wkładek oferowanych butów.
B. PROSIMY WYBEIRAĆ rozmiar, którego wkładka jest od 2mm do 5mm dłuższa od rzeczywistej długości bosej stopy.
C. Jak mierzyć stopę?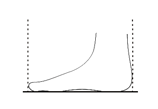 Pomiar należy wykonać od początku pięty do końca palców - najlepiej w pozycji stojącej.
Piętę przysuwamy do ściany lub np. mebla, a do palców przesuwamy prostopadle do linii stopy, np. sztywną książkę.
Mierzymy odległość pomiędzy ścianą a książką.