Model Fahrenheit wykonany z wodoodpornego z membraną Gore-Tex, oddychającego materiału o doskonałej izolacji cieplnej, które będą chronić stopę, nawet w trudnych warunkach (-10°C / +15°C).
Cena katalogowa: 985PLN
cholewka: Gore-Tex
podeszwa: NRG Air Carbon Reinforced
system zamykania: S.L. System + rzep Power Strap
pięta: Integrated Heel System
wkładka: specjalna G.T.X.
tolerancja temperaturowa: -10°C / +15°C
kolor: black/silver
waga producenta: 395g
komaptybilne z pedałami: Shimanio, Look, TIME, Ritchey

w przypadku błędnie dobranego rozmiaru istnieje możliwość zwrotu lub wymiany

Speed Lace to szybki i funkcjonalny system zamykania, aby idealnie trzymać stopę. Wystarczy pociągnąć za przewód i przesunąć mechanizm w dół, automatycznie blokując sznurowanie. Jest łatwy do uwolnienia po prostu przez naciśnięcie dźwigni i pociągnięcie do góry mechanizmu.

Podeszwa wykonana z termoplastycznego materiału wzbogaconego karbonem, gwarantuje wysoki stopień sztywności przy równoczesnie niskiej wadze. Przód podeszwy podzielony jest na dwie części: podeszwy środkowej z dodatkiem włókna węglowego oraz podeszwa. Naturalna guma w tylnej części została zaprojektowana, aby zapewnić maksymalną przyczepność także podczas zjazdów.

Membrana GORE-TEX®: pierwszy buty rowerowe NorthWave z GORE-TEX®, które gwarantują wysoką wodoodporność w połączeniu z doskonałą oddychalnością. Wszystko to zapewnia komfort cwe wszystkich warunkach pogodowych. Mikroklimat stworzony wewnątrz buta sprawia, że ​​można zakładać je na najdłuższe podróże bez efektu zmęczonych lub przegrzanych stóp.

Podszewka termiczna - nowe rozwiązanie konstrukcyjne stosuje się w celu zapewnienia skuteczności w celu maksymalnej izolacji cieplnej w górnej części, oraz w obszarze, w którym but łączy się z pedałem. Materiał izolacyjny, który całkowicie zakrywa otwory w podeszwie zapewnia lepszą ochronę cieplną dla dolnej części stopy. Lepsza ochrona przed deszczem, zwłaszcza na górnej części buta. Materiał można łatwo umyć po jeździe w błotnistych warunkach. Obuwie z doskonałą oddychalnością.



GORE-TEX:
When temperatures fall and only the toughest riders are still on the road, the top models of the NORTHWAVE collection are the perfect choice. Thanks to insulating fibres, the GORE-TEX membrane, that is used for the Arctic versions of certain NORTHWAVE shoes, provides optimal protection from cold and is thus also suitable for toughest weather conditions in winter. Excellently protects from rain, wind and snow while being also extremely breathable: for permanently dry and warm feet! The outer material is easy to clean, e.g. after muddy rides.

S.L. SYSTEM closure:
The Speed Lace system provides a perfect support of the foot and is fast and functional: The shoe can be opened and closed with a flick of the wrist.

POWER STRAP closure:
The Power Strap covers the Speed Lace closure and protects it from wind, water and dirt. This allows for easier cleaning after rides through snow and mud.

INTEGRATED HEEL SYSTEM:
Thanks to the new single shell design of the upper material, an efficient heel support could be directly integrated into the structure without additional elements. Same effect, lower weight.
Fason

:

WYSOKIE

Type

:

MALE

,

WOMEN

Membrana

:

GORE-TEX

Mocowanie bloków

:

SPD SL

,

LOOK

,

SPD

FASTENING SYSTEM

:

VELCRO

,

ZACIĄGANE

Use

:

ROAD

,

ROAD autumn/ winter



| Size | US | CM | Rzeczywista mierzona długość wkładki (mm) |
| --- | --- | --- | --- |
| 39 | 7 | 25 | 255 |
| 40 | 7,5 | 26 | 263 |
UWAGA! Aby uniknąć niepotrzebnych wymian lub zwrotów zakupionego obuwia - BARDZO PROSIMY przy doborze zamawianego rozmiaru, trzymać się poniższych zasad:
A. podane w ostatniej kolumnie długości wkładek w mm, są RZECZYWISTYMI, CAŁKOWITYMI długościami mierzonych przez nas wkładek oferowanych butów.
B. PROSIMY WYBEIRAĆ rozmiar, którego wkładka jest od 2mm do 5mm dłuższa od rzeczywistej długości bosej stopy.
C. Jak mierzyć stopę?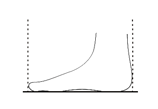 Pomiar należy wykonać od początku pięty do końca palców - najlepiej w pozycji stojącej.
Piętę przysuwamy do ściany lub np. mebla, a do palców przesuwamy prostopadle do linii stopy, np. sztywną książkę.
Mierzymy odległość pomiędzy ścianą a książką.